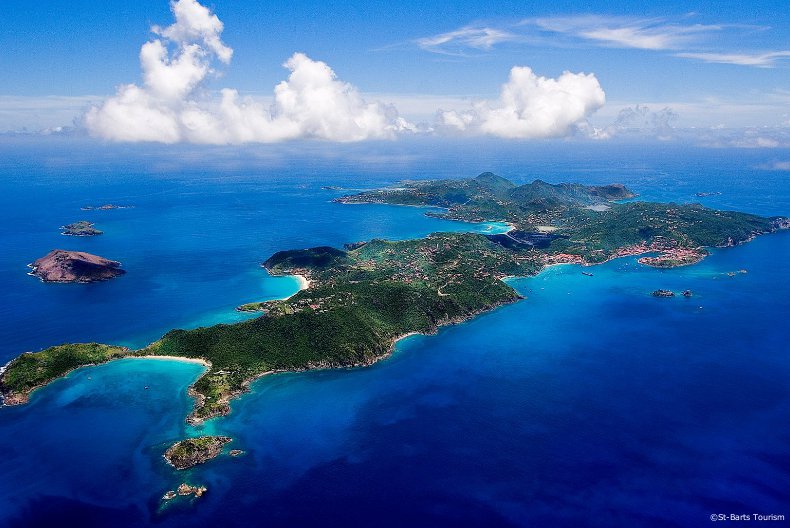 St Barths - Caribbean
St Barths Villas
Luxury Vacation Rentals - Beach Villas, Apartments and Holiday Homes to Rent in St Barts
Considered to be one of the oldest volcanic islands in the Lesser Antilles, St Barths (short for Saint-Barthélemy) is probably one of the most elegant and luxurious islands in the Caribbean. It specialises in pristine natural beauty with talcum powder silky white sandy beaches, gourmet restaurants, luxurious villas and rest & relaxation.
However, St Barts is more than just beach life, offering an enthralling mixture of French colonial heritage and traditional island culture.
Plus, St Barts has been allowed to keep its tax-free status so for shopping, there are plenty of shops in Gustavia selling jewellery, duty-free perfumes and a mix of French and Italian designer clothing. On the opposite side of the island, near the airport, the village of St Jean has a collection of boutiques and beach bars that could easily be mistaken for St Tropez on the Cote d'Azur.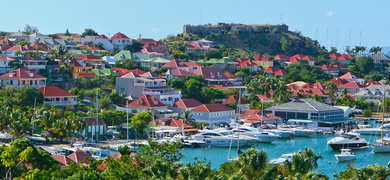 | Key Facts | |
| --- | --- |
| Languages | French |
| Currency | Euro (€) |
| Known for | Elegance, Chic, Sophisticated |
| Family holidays | ✔ |
| Couples | ✔ |
| Capital | Gustavia |
| Island group | French west Indies |
| Time difference | UTC -4 hours |
| Temperature | Average daytime high of 82°F |
| Beaches | 22 |
| Busy season | Mid Nov to March |
| Dry season | Dec to May |
| Hurricane season | July to Nov |
| Main airport | Gustaf III Airport |
Weather & When To Visit
St Barts has a tropical climate. The temperature ranges from 80°F during the winter to 86°F in the summer, with highs of 90°F in July and August. The sea temperature can reach as high as 84°F during the summer which is great for swimming and diving.
St Barth has two seasons known as "Carême" and "Hivernage." Carême runs from 1st December until 30th May, when the air is cool and the temperatures are slightly lower and corresponds to the peak vacation time. Hivernage runs from 1st June to the 30th November and is hotter and more humid with the height of the hurricane season in September and October.
Summer is actually a great time to visit the islands because the cost of renting a villa or apartment is much lower and the beaches, roads and restaurants are not crowded.
Getting to St Barts
To reach your St Barts villa, the starting point is getting to Princess Juliana International Airport on the Dutch island of St. Maarten. This is the gateway to St Barts and served by numerous international carriers. From St Martin, its a 10 minute flight to St Barts on the local airlines - either WinAir or St Barth Commuter.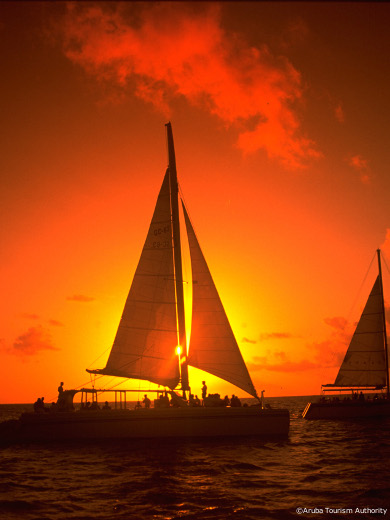 Top things to see & do
At just 8 square miles, St Barths is tiny but punches well above its weight when it comes to things to see and do for all ages...
| | |
| --- | --- |
| A day at Grande Saline Beach | ✔ |
| Scuba and Snorkling | ✔ |
| Downtown Gustavia for shopping | ✔ |
| Submarine tours | ✔ |
| Petit Cul de Sac Beach | ✔ |
| Watch the sunset in Lurin from one of the hilltop cafes | ✔ |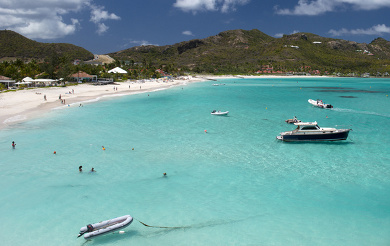 Popular beaches on St Barts are...
Grand cul de Sac
This is a reef protected stretch of beach with shallow waters and is regularly cited as one of the best beaches in the world - it is a picture postcard Caribbean beach. Grand cul de Sac is also a safe place for children to swim and great for snorkeling and other watersports.
Grande Saline
If you like sun-bathing, Grande Saline is the place to head to. There is no shade, no beach bar or restaurant - in fact, no amenities at all! What you do get is the purest white coral sand on the island and warm calm waters for swimming.
Anse des Flamanes
Probably one of the prettiest beaches on St Barts, Anse des Flamanes is a stunning talcum powder beach that has a reputation for being a place to relax and chill out.
Anse du Grand Colombier
A beautiful white sandy beach thats only accessible by boat or a 20 minute walk from Flamand making it peaceful and relaxing. With hardly any waves, Anse du Grand Colombier a popular place for anchoring yachts.
Saint Jean beach
Saint-Jean is minutes away from the capital of Gustavia and is the busiest area on the island. There are many beach bars and restaurants and all types of watersports on offer.
St Barts Holiday Home Villas
Staying in a villa or apartment for your St Barts holidays, gives you the flexibility to do what you want when you want. The accommodation caters for all budgets and tastes from beautiful luxury villas with private pools, hilltop retreats to relax and unwind or chic and stylish apartments - there is something for everyone.
If you are travelling as a family or with friends, there is a wide choice of self catering accommodation especially around the very popular Pointe Milou and Margot areas of the island where the shallow warm waters are ideal for snorkeling. Here you will find beachfront villas and quaint traditional cottages to rent offering excellent value for money.
Featured resorts
Our view on St Barts Vacation Rentals
With an enviable tropical climate, superb sailing and diving and home to some of the best beaches in the World, it is no wonder why St Barts attracts the rich and famous. Consequently, the island is a melting pot of international jetsetters and has become a sensational vacation destination that is refined and sophisticated and the envy of the Caribbean....