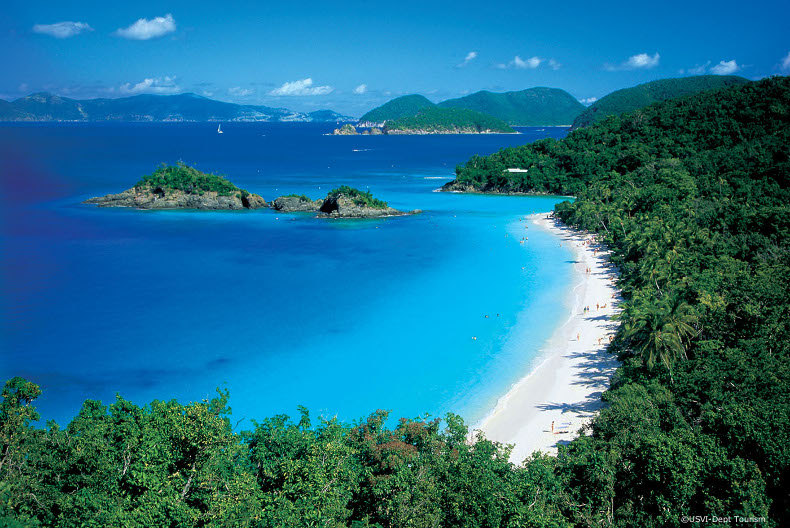 Trunk Bay, US Virgin Islands Holidays - Caribbean
US Virgin Islands Vacation Rentals
Luxury Beach Villas, Condos & Apartments to Rent, Cottages and Holiday Homes
Sitting just 1,100 miles southeast of Miami, the U.S. Virgin Islands are surrounded by the clear blue waters of the Caribbean with an average temperature ranging from 77F in the winter to 83F in the summer.
First discovered by Columbus in 1493, the US Virgin Islands are famed for their stunning white sandy beaches and emerald waters making them a popular choice for families, couples and water sports enthusiasts.
However, the islands are more than just beach life, offering an enthralling mixture of European colonial heritage and traditional island culture having been ruled by the French, Dutch, English, Spanish before becoming a United States Territory.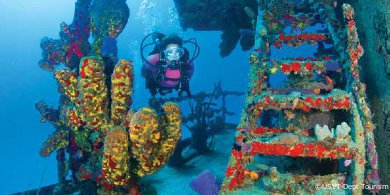 | Key Facts | |
| --- | --- |
| Languages | English, Spanish, Creole |
| Currency | US Dollar |
| Family holidays | ✔ |
| Couples | ✔ |
| Capital | Charlotte Amalie |
| Known for | Cruzan rum |
| Time difference | GMT -5 hours |
| Temperature | Average daytime high of 83°F |
| Best beach | Magens Bay |
| Best time to visit | April to June |
| Dry season | End Dec to early Aug |
| Hurricane season | July to Oct |
| Main airport | St Johns & St Thomas |
The main islands are...
Saint Thomas
With duty-free shopping, sophisticated dining and lively evening entertainment, St Thomas is the most cosmopolitan of all the islands. The capital city of Charlotte Amalie, is a bustling harbor town steeped in history, warehouse shops and historic monuments. For food, there are literally dozens of fine dining restaurants, cafes and food carts lining the streets of Charlotte Amalie and the surrounding area.
Saint Croix
St. Croix is the largest of the three islands measuring 28 miles long and 7 miles at its widest point. The historic towns of Christiansted and Frederiksted are full of pastel buildings and charming shops whilst the coastal emerald waters and silky white sandy beaches are another main attraction.
Saint John
Two-thirds of St. John is a protected U.S. national park with 9500 acres of hills and jungle and an underwater marine reserve. Its main towns are Cruz Bay and Coral Bay. Visitors can enjoy the shops and restaurants at Mongoose Junction or Wharfside Village at Cruz Bay whilst Coral Bay is a good place to go for panoramic views as it sits at the highest point in the U.S. Virgin Islands.
Water Island
With a population of just 200, Water Island is the smallest of the Virgin Islands but is blessed with beautiful beaches and lush green forests. Its just half a mile off the coast of St. Thomas and is a good place to relax and escape the crowds from the cruise ships.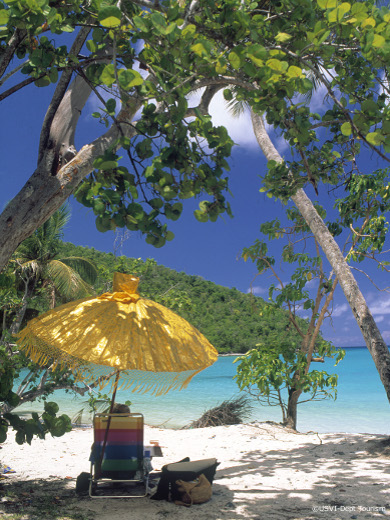 With a tropical climate, the temperature averages a very pleasant 83°F throughout the year with strong sunshine and warm crystal clear waters. Between April and June, the weather is normally mild and dry with temperatures between 75°F - 80°F.
In the peak tourist season between December and March, the temperature ranges from the mid-70s to high 80s with the trade winds cooloing the evenings. July to October is the region's hurricane season with average temps in the upper 80s.
Island Hopping
If you have booked a villa on one island but fancy a day trip or a few nights exploring one or more of the others then you have a choice of catching a ferry or taking a very short flight. St John to St Thomas takes just 20 minutes by ferry.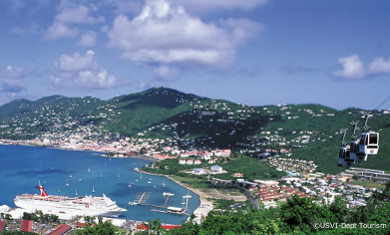 Featured Villas, Condos & Apartments
US Virgin Islands Vacation Rentals
Staying in a villa or apartment gives you the flexibility to do what you want when you want and is the best way to enjoy everything these magical islands have to offer.
By staying in private luxury vacation rentals, which are typically less expensive than hotels, you can wake up in your beach villa and be free to explore the islands, relax on the beach or sample world class dining before heading back and perhaps having a BBQ of fresh lobster or mahi mahi under the stars sipping the local speciality drink known as "maubi".
Featured Islands
Top things to see & do
| | |
| --- | --- |
| Take the gondola to Paradise Point on St Thomas | ✔ |
| Tour the Annaberg Sugar Mill Ruins | ✔ |
| Dolphin watching | ✔ |
| Coral World Marine Park & Observatory on St Thomas | ✔ |
| Shopping at Mongoose Junction in downtown Cruz Bay | ✔ |
| Sunset dinner cruise on a yacht | ✔ |
| Wreck diving | ✔ |
| Snorkeling at Watermelon Cay | ✔ |
| Virgin Islands National Park on St Johns | ✔ |
| Mahogany Run Golf Course | ✔ |
| Tour the Cruzan rum factory on St Croix | ✔ |
Best Beaches
The islands are fortunate to have stunningly beautiful beaches with sugary white sand - some of the most popular...
Magens Bay
A mile long beach on St. Thomas and voted one of the most beautiful beaches in the world by National Geographic Magazine.
Chenay Bay
Found on St. Croix's east end and is ideal for families with shallow waters and plenty of room to play.
Trunk Bay
St. John's most famous and photographed beach, Trunk Bay is also the site of the Virgin Islands National Park Underwater Snorkel Trail.
Turtle Beach
Located on Buck Island's west end, 1.5 miles off the northeast side of St. Croix is Turtle beach with a reputation as one of the world's finest.
US Virgin Island Festivals
The USVI have many festive celebrations throughout the year accompanied by local cusine and the sounds of folk music known as quelbe and dance known as quadrillef both of which evolved from the fusion of French and African cultural influences.
Some of the main festivals include...
Virgin Islands Carnival - a month long festival celebrated on St. Thomas each spring and not to be missed
St. John Annual Fourth of July Celebration - the celebrations start early June and last for 4 weeks
St. Croix's Crucian Christmas Festival - for food connoisseurs!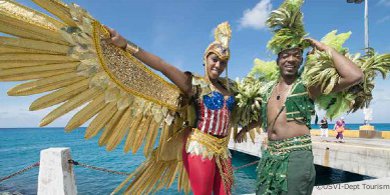 Our view on US Virgin Islands
With an enviable tropical climate, superb sailing and diving and home to one of the "Top 10 Beaches in the World," it is no wonder why the US Virgin Islands are one of the most revisited holiday resorts in the Caribbean, with more than half of all visitors returning year after year.