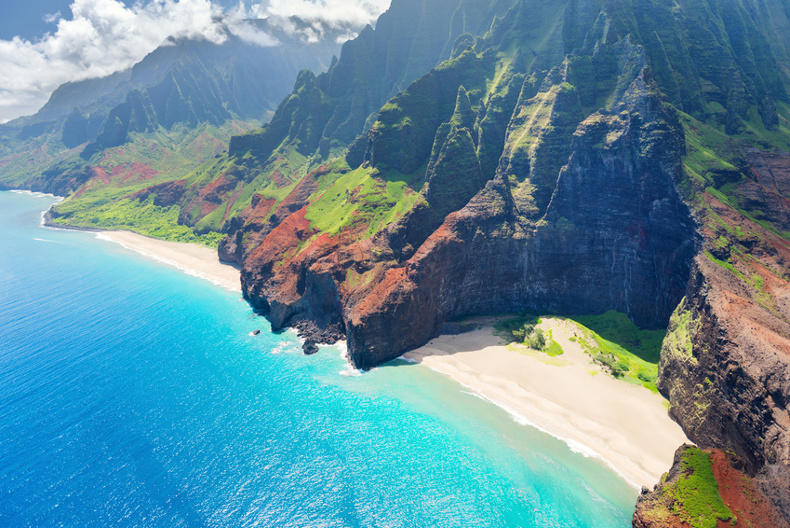 Hawaii Vacation Rentals
Hawaii Vacation Rentals
Self Catering Villas, Houses & Condominiums to Rent on the Hawaiian Islands
The 7 islands that make up the state of Hawaii are known for their splendid beaches and crystalline seas. In fact, the region is almost synonymous with luxury vacationing, conjuring up images of coconut palms, sailboats, and lazy days in the sun. If you're ready for your own dose of paradise, we've got the scoop on the best Hawaii destinations.
The turquoise waters of the Pacific Ocean are dotted with hundreds of friendly and picturesque islands. A glorious landscape of white sand and tropical scenery, the Hawaiian islands may be the world's most perfect piece of paradise. From sunbathing on the beach to dining under the stars, Hawaii is an ideal spot for a romantic getaway, a relaxing winter retreat, or a fun vacation with the whole family.
Kauai
The island of Kauai has been nicknamed the "Garden Isle" because of the abundance of tropical gardens and lush foliage throughout the region. The Na Pali Coast on the North Shore boasts 2,000-foot cliffs and white sands, while the South Shore features miles of scenic beaches and lush rain forests. Some of the major attractions in Kauai include Kai gardens, a wilderness preserve, several forest reserves, botanical gardens, plantation railways, a museum showcasing the culture and heritage of the island, a farm homestead museum and a historic bridge.
The island of Kauai encompasses approximately 550 square miles and is the oldest of all the main Hawaiian Islands
See vacation rentals in Kauai
Big Island Hawaii
Big Island Hawaii is the largest of the Hawaiian archipelago and famous for its active volcanoes of Mauna Loa and Kīlauea. In fact, Big Island may be the youngest island but it is still growing thanks to the continual flow of lava from Kilauea - its been erupting non-stop since 1983.
Whether you're walking on a black or silky white sandy beach, snorkeling with turtles around the reefs, horseback riding in Waimea or sailing along the Kona Coast, Big Island Hawaii is full of fun and adventure for everyone.
See vacation rentals on Big Island Hawaii
Maui
Known as the "Valley Isle", Maui is the second largest island in the Hawaiian chain with lush vegetation, pristine white sandy beaches and quaint friendly villages. From the action packed beach resorts to the incredibly beautiful mountain trails in the Haleakala National Park - there is something for all ages and all tastes and one of the reasons why Maui is one of those places where people go back to time and again.
See vacation rentals on Parrot Cay
Oahu
Oahu, known as the "Gathering Place", is the third largest of the Hawaiian Islands and is home to Honolulu, the state capita. Honolulu, with its famous Waikiki Beach, bustling China town and PunchBowl crater is a fascinating and intriguing city and where many people choose to stay for a few days before exploring the rest of Oahu or the other islands.
See vacation rentals on Oahu