Big Island Hawaii Skiing Holidays
Skiing & Snowboarding in Big Island Hawaii
Big Island Vacation Rentals
Big Island Hawaii Vacation Guide
Self Catering Lodging - Vacation Rentals, Villas, Condos & Holiday Homes For Rent
Overview
Big Island Hawaii is the largest of the Hawaiian archipelago and famous for its active volcanoes of Mauna Loa and Kīlauea. In fact, Big Island may be the youngest island but it is still growing thanks to the continual flow of lava from Kilauea - its been erupting non-stop since 1983.
Whether you're walking on a black or silky white sandy beach, snorkeling with turtles around the reefs, horseback riding in Waimea or sailing along the Kona Coast, Big Island Hawaii is full of fun and adventure for everyone.
In a single day, you can hike through the forests and discover hidden waterfalls or take a tour of the famous Volcano National Park where the palm fringed beaches give way to a lunar landscape, and still be back to your vacation rental in time for a dip in the turquoise waters of the Pacific Ocean, before catching the sunset from your beachfront villa.
A Four Season Holiday Destination
Big Island is a year-round playground with a warm tropical climate - the best time to visit really depends on what you want to see and do from whale watching and big surf breaks in the winter to warmer and more tranquil summer days.
There are 8 different climates in the world and Big Island can take you through 6 of them in a day! From Wet Tropical to Polar Tundra, the massive volcanoes of Maunakea and Maunaloa create weather systems so diverse you can be skiing down Mauna Kea in the morning and sunbathing on Kona beach in the afternoon.
Mid August until the end of September is the hottest time of the year, with the average high of 85°. January is the coolest season with average highs of 78°.
Kauai Vacation Rentals
Self catering holiday rentals along the coast of Big Island are plentiful and certainly good value especially for family vacations. You will find beachfront villas, often with private swimming pool, spacious condos and family holiday homes to rent along the entire coast.
The main and popular places to stay on Big Island include...
Kailua-Kona
Mauna Lani
Waikoloa
Puna District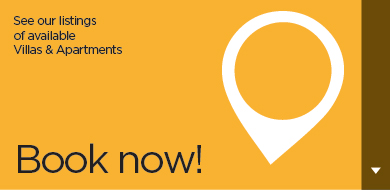 Featured Big Island Resorts
Best Big Island Beaches
Many of the best beaches on Hawaii Island are on the west side (Kona) where there are many beautiful sandy beaches inbetween the black lava flows. Nearly all the beaches are easily accessible by car although a few require a 4 wheel drive.
Hapuna Beach
Considered to be one of the best beaches in America, Hapuna Beach is that classic strip of white sand you see in the travel brochures. Its half a mile long and is a great spot for swimming and snorkeling. Its easy to get to - just a 30 minute drive north of Kailua-Kona on Highway 19.
White Sands Beach
Located in Kailua-Kona, White Sands beach (also known as "Disappearing Sands beach") is a lovely spot during the summer months when the surf is relatively tame. During the winter months with the massive waves, the sand is washed away leaving a rocky beach but during the summer, the sand returns!
Mauna Lani Beach
Mauna Lani beach is 30 miles north of Kailua-Kona on Highway 19 and is accessed via the Mauna Kea Beach Hotel. Its a lovely stretch of golden sand about 1/4 mile and a great spot for walking and swimming.
The beach is family friendly as there is a lifeguard, restrooms, shower and a snack bar plus a picnic area where you can BBQ the catch of the day. Bodyboarding is popular here as is beach volleyball and beach football.
Being a stroll from downtown Kona, the beach can get a little crowded but there are excellent facilities including a lifeguard, restrooms and a picnic area with tables.
At the South end of the beach, the rocks in the sea are a natural attraction to the tropical fish which makes Mauna Kea beach an ideal spot to snorkel when the water is calm.
10 Popular Things to see and do
If you are visiting Big Island for the first time it can be a bit overwhelming with so many things to see and do in such a short space of time. Here are a few suggestions....
| Attraction | Miles | Time |
| --- | --- | --- |
| Hawaii Volcano National Park | 90 | 120 mins |
| Skiing on Mauna kea | 59 | 85 mins |
| Onizuka Center on Mauna Kea | 54 | 7 mins |
| 500 year old Thurston Lava Tube | 104 | 130 mins |
| Holualoa art and coffee village | 10 | 16 mins |
| Humpback whale watching - Kohala | 52 | 60 mins |
| Rainbow Falls in Wailuku River State Park | 74 | 90 mins |
| Scuba with manta rays, Kona | 8 | 15 mins |
| Historic Kailua Village | 8 | 15 mins |
| See the 442-foot Akaka Falls | 84 | 110 mins |
Distance in miles from Kona International Airport
Our view on Big Island Hawaii
As the youngest and largest island in the archipelago, big Island will take your breath away with its spectacular mountains, volcanoes and gorgeous white sandy beaches. With its long hot summers and mild winters, Big Island attracts tourists from all over the world throughout the year. And what better way to experience the local culture than by staying in a vacation rental. Whether a beach villa or condo, self catering vacation rentals provide freedom, space and flexibility to do what you when you want - home from home!
List your Ski Chalet
Ski holiday rentals are getting more popular with travellers from families to adventurers.
List your chalet on MyChaletFinder today!
List your property