Dubai Skiing Holidays
Skiing & Snowboarding in Dubai
Dubai Holidays Guide
Dubai Holidays Guide & Reviews
Villas & Apartments to Rent, Holiday Rentals in Dubai
Dubai is the second largest emirate behind Abu Dhabi and has a well earned reputation as a world class holiday destination. With stunning beaches, luxury hotels, more shopping malls than you can count and a fantastic climate, Dubai's tourist industry is booming.
Most people think of Dubai as a place for shopping and beach holidays but Dubai has far more to offer. The emirate is rich is culture and tradition and whilst not evident from the tourist hotspots such as Jumeira beach, one visit to Bur Dubai (old town) will take you to a place of bustling souks and street vendors selling everything imaginable.
Dubai is also home to some gorgeous beachfront property such as on The Palm where you can rent a villa or apartment - Dubai will keep you coming back year after year.
| Top things to see and do | |
| --- | --- |
| Burj Khalifa - world/s tallest building | ✔ |
| Wild Wadi water park on Jumeira Beach | ✔ |
| Acquarium, Atlantis | ✔ |
| Scuba diving | ✔ |
| Boat ride at Dubai Creek | ✔ |
| Watersports - sailing, wind & kite surfing | ✔ |
| Skiing at Ski Dubai | ✔ |
| Burj Al Arab - 7* hotel & resort | ✔ |
| Hire a 4X4 and explore the desert | ✔ |
Featured Dubai holiday rentals
Dubai vacation rentals
The accommodation options in Dubai cater for all budgets and tastes and there is a good mix of city centre apartments and private beach villas to rent in areas such as The Palm.
Many of the self catering holiday rentals are within state of the art resort complexes that often come with spa suites, gyms and swimming pools.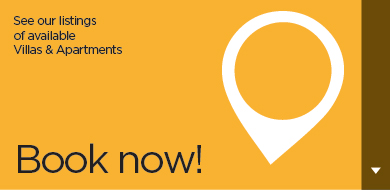 Dubai has magnificent beaches and Jumeirah Beach is on a par with the best in the world!! The sea is shallow, gentle and teeming with tropical fish - perfect for swimming, snorkeling, sailing and diving.
Wake up in your spacious Dubai villa or apartment to breathtaking views of the Arabian peninsula before heading off to the beautiful beaches to relax or do some watersports.
Dubai is an all year round destination with a subtropical climate with very hot summers and warm winters. From june to September, daytime temperatures can reach 45°C so the best time to visit is spring and autumn where 30°C is the norm. January and February are the coldest months and but even then, temperatures rarely drop below 20°C.
Featured Areas in Dubai
Events
There are many festivals and sporting events held in Dubai throughout the year -some of the more popular being...
| | |
| --- | --- |
| Dubai Desert Classic | February |
| Dubai World Cup | April |
| Ramadan | Sept or Oct |
| Rugby 7s | Dec |
| National Day festival | Dec |
Our view on Dubai holidays
A stunning location for a romantic getaway or a family holiday. Blessed with one of the best beaches in the world, Palm Beach takes some beating.
Its pristine white talcum powder sandy beach entices you back time and again. Away from the beach, the evenings can be spent relaxing at your villa or enjoying the lively nightlife.
List your Ski Chalet
Ski holiday rentals are getting more popular with travellers from families to adventurers.
List your chalet on MyChaletFinder today!
List your property