Kauai Skiing Holidays
Skiing & Snowboarding in Kauai
Kauai Vacation Rentals
Kauai Vacation Guide
Self Catering Lodging - Vacation Rentals, Villas, Condos & Holiday Homes For Rent
Overview
Kauai, nicknamed Hawaii's Garden Island, is most famous for its lush vegetation, pristine white sandy beaches and the warm friendly nature of the people who live here. Kauai is the oldest and fourth largest of the main Hawaiian Islands, having a land mass of just over 552 sq miles. From the action packed beach resorts to the incredibly beautiful mountain trails - there is something for all ages and all tastes and one of the reasons why Kauai is one of those places where people go back to time and again.
In a single day, you can kayak up a lazy river, hike through the forests and discover hidden waterfalls or take a tour of the famous and spectacular Na Pali coast - the area used for filming Jurassic Park - and still be back to your vacation rental in time for a dip in the turquoise waters of the Pacific Ocean, before catching the sunset from your beachfront villa.
A Four Season Holiday Destination
Kauai is a year-round playground with a warm tropical climate - the best time to visit really depends on what you want to see and do from whale watching and big surf breaks in the winter to warmer and more tranquil summer days.
Mid August until the end of September is the hottest time of the year, with the average high of 85°. January is the coolest season with average highs of 78°, so there is really no cold season. However, Kauai is known as the wettest place on the planet but when it does rain, its tropical so heavy short bursts are the norm.
Kauai Vacation Rentals
Self catering holiday rentals along kauai's coast are plentiful and certainly good value especially for family vacations. You will find beachfront villas, often with private swimming pool, spacious condos and family holiday homes to rent along the entire coast.
The main and popular places to stay on Kauai include...
Poipu
Princeville
Koloa
Kapaa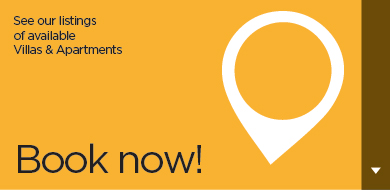 Featured Kauai Resorts
Top Kauai Beaches
Poipu Beach
Poipu Beach is located on the southern shore of Kauai, and it is the most popular beach on the island. Like Waikiki on Oahu, this beach is near many entertainment options and is often crowded. It also offers great swimming opportunities, as well as surfing and boogie boarding.
The sandy bottom, along with the calm water, makes the left side of the beach a paradise for swimmers and children. The right side of the beach has open water that receives all the benefits of the ocean swells, making perfect waves for surfing. Poipu was named "America's Best Beach" by The Travel Channel in 2003
Kiahuna Beach
This lovely South Shore beach is one of Garden Kauai's most popular beaches mainly because Kiahuna is a great spot for swimmers, beginner surfers and boogie boarders. Also, when the conditions are good meaning good visibility, snorkeling is a firm favourite.
Whilst the summer months have gentle waves making the beach popular for swimmers, the winter months see the huge swells coming in to the bay making it a good spot for surfing. Services at Hanalei beach incude restrooms, shower and lifeguide.
Tunnels Beach - Hanalei
Sitting in a sunken valley, surrounded by mountains and soaring cliffs rising to over 1200m, Tunnels Beach is one of the best scuba and snorkeling spots on Kauai, especially during the more tranquil summer months when the sea is at its calmest and the surf waves quite tame.
The white sandy beach stretches two miles from Hanalei Colony Resort to Haena Beach Park where the road ends. Tunnels beach caters for families who want to relax and swim in the calm waters near the shore but also for divers with the reef teeming with tropical fish and close to shore, there are some deep-water caverns for cave diving.
10 Popular Things to see and do
If you are visiting Kauai for the first time it can be a bit overwhelming with so many things to see and do in such a short space of time. Here are a few suggestions....
| Attraction | Miles | Time |
| --- | --- | --- |
| Explore the Na Pali coast by boat | 25 | 30 mins |
| Opeakaa Falls in Wailua | 7 | 15 mins |
| Waikapalae Wet Caves | 38 | 72 mins |
| Waimea Canyon State Park | 39 | 50 mins |
| Fern Grotto | 7.5 | 15 mins |
| Hanalei Valley Lookout | 28 | 40 mins |
| Ke Ala Hele Makalae trail | 9 | 15 mins |
| Keahua Arboretum | 6 | 10 mins |
| Opeakaa Falls | 7 | 12 mins |
| Spouting Horn | 15 | 26 mins |
Distance in miles from Lihue Airport
Our view on Kauai
As the "Garden Island" of Hawaii, Kauai will take your breath away with its spectacular lush cliffs on the Na Pali coast and gorgeous white sandy beaches. With its long hot summers and mild winters, Kauai attracts tourists from all over the world throughout the year. And what better way to experience the local culture than by staying in a vacation rental. Whether a beach villa or condo, self catering vacation rentals provide freedom, space and flexibility to do what you when you want - home from home!
List your Ski Chalet
Ski holiday rentals are getting more popular with travellers from families to adventurers.
List your chalet on MyChaletFinder today!
List your property