Morocco Ski Holidays - Atlas Mountains
Skiing, Ski Resorts, Ski Chalets & Apartments to Rent
Ski holidays in Morocco - better known for summer and winter beach holidays but believe it or not, there is some fantastic skiing high up in the Atlas mountains near Marrakech.
The resort of Oukaimeden, 65km south of Marrakesh, is Morocco's best ski resort and is home to Africa's highest ski lift at 3258m and second highest peak, Jebel Toubkal at 4167m, after Kilimanjaro. Morocco's other main ski resort is Mischliffen at Fès.
Marrakech is the entry point to the Atlas Mountains and is a city full of history and teaming with market traders, shops and souks. Marrakech is basically a city of old and new.
The Medina is the historical part with it's narrow streets and many souks - almost like a maze - and this is where all the tourists head to. And then there is the "new city" with two principal districts called Gueliz and Hivernage.
Where to stay in the Moroccan Ski Resorts
There is a large variety of accommodation to choose from in and around Marrakech from 5-star beach hotels, mountain hotels, B&Bs and camping to the traditional riads. The riad is similar to the ancient Chinese houses where the house surrounds an interior courtyard. Many of the riads have now been converted in to hotels ranging from budget to boutique luxury. One thing you can be sure of is the quality, high standards and service.
Most people who go skiing in Morocco either stay in Marrakech and make the short journey to the base lift (around an hours drive) or split their holiday spending some of the time in Marrakech and the rest in the ski resort of Oukaimeden.
Liquid error: internal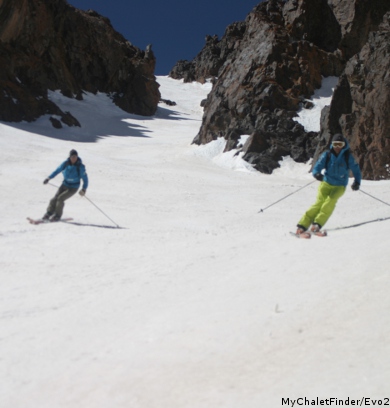 Skiing in Morocco is a destination for the more adventurous with most of the runs being for the good intermediate or advanced skier and snow boarder. The snow isn't groomed and facilities are rather thin on the ground but saying that, if you fancy something different, combining beach and mountains, then this is the place to go.
To get the best out of the Atlas mountains, heli-skiing is a must and rivals the best the Alps has to offer for considerably less. The heli-skiing itineraries are varied and suitable for intermediate skiers and boarders and above. Great views, deep virgin snow and an experience you won't forget!
Summer in the Atlas mountains
Marrakesh has some superb beaches plus there are fantastic things to do and see in the Atlas mountains from trekking, mountain climbing and cycling. Staying in Marrakesh gives you the perfect opportunity to combine the beach and mountains in one holiday.
Mountain biking
Jebel Toubkal is one of the most popular mountains for trekking and climbing
Swimming at one of the beach resorts near Marrakech
White water rafting
Kayaking
Things to see and do
If you are skiing in Morocco then its highly likely you will have arrived via Marrakech. This is a fascinating city full of history and culture and it's bustling markets.
One of the top attractions in Marrakech are the souks - these are fascinating places where you can find almost anything to buy - remember to bargain! The local specialities include spices, handicrafts and cactus silk scarves.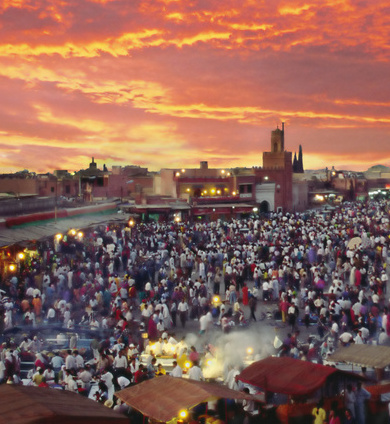 Our view on skiing in Morocco
Ski holidays in Morocco -not well known to most travellers but the Atlas mountains have some superb skiing at altitude and is heaven for heli-skiing. During the summer, there are plenty of mountain activities to keep you busy. In our view, Oukaimeden and Marrakesh are one of the few places where you can combine the mountains with the beach in the same day...definitely worth a visit.
List your Ski Chalet
Ski holiday rentals are getting more popular with travellers from families to adventurers.
List your chalet on MyChaletFinder today!
List your property