Best Heli-skiing in the World
Heli-skiing - the ultimate ride, with untracked pristine powder snow, no lift queues, spectacular vistas and the adrenaline rush of a lifetime.
Bored of the pistes? not enough challenge? well, if you get the opportunity, try heli-skiing, it's an experience you'll never forget. There are some very interesting places around the world to try out heli-skiing such as the , Greenland and even the high glacial basin of the Annapurna Sanctuary in Nepal. However, these areas tend to be for the die hard heli-skiers and boarders as there are very few with ski resorts to return back to!
In this article, we feature some of the best places outside of Europe to go heli-skiing including those remote areas where there is not a ski resort in sight! From the Atlas mountains of Morocco, Tien Shan mountains in Central Asia and Kashmir in India to the frozen lands of Alaska and Greenland, heli-skiing takes you on an adrenalin trip you wont forget!
The resorts feaured below are just examples of what you can expect when heli-skiing in a particular region. For further information on the best locations for heli-skiing and the operators who organise the package holidays, please click on the "more information" buttons.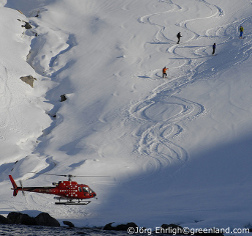 At a glance
Best time - March to May
Main areas - Maniitsoq, Unmmannaq
Longest run 2kms
Max height 2000m
Airport - Kangerlussuaq
In detail
With fjords and glaciers everywhere, the scenery is spectacular and being north of the Arctic Circle means long days from April onwards - which coincides with the start of the heli-skiing season!
The north slopes offer powder whilst south facing slopes deliver spring corn snow. The terrain is varied from short steep couloirs to traversing across mighty glaciers with many runs ending up at the beach!
Tien Shan Mountains, Kyrgyzstan
Book Now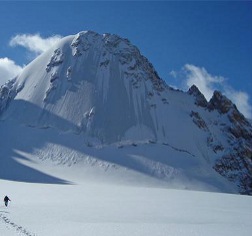 At a glance
Ski areas - Suusamyr, Too-Ashuu
Best time - April, May
Highest drop-off 4000m
Longest run 2kms
Resort height 2960m
Airport - Bishkek (135km)
In detail
Kyrgyzstan is basically a country of spectacular peaks and is home to the largest mountain range in Asia, the Tien Shan system otherwise known as the Celestial Mountains.
With annual snow dumps of upto 22m there is never any danger of skiing on grass. The main heli-ski areas are Suusamyr - a vast valley south of Bishkek (the capital) and Karakol, known for its fantastic snow conditions.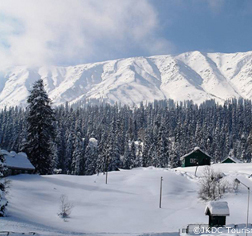 At a glance
Best time - March to May
Highest drop-off 4745m
Longest run 5kms
Resort height 2650m
Srinagar (45km)
In detail
Heli skiing in Kashmir takes skiing to new heights - literally!. With unlimited drop-off points that plunge you into steep and wide open snow fields starting on Sunset Peak at 4745m, heli-skiing can rival the best.
After skiing off the world's second highest gondola lift at 3979m on Mt. Apharwat, heli-skiing is the natural next step with 66 peaks over 3000m and 22 over 4000m, the options are endless!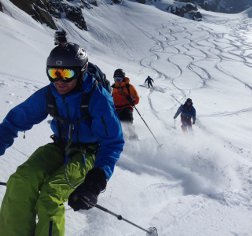 At a glance
Best time - March to May
Main areas - Monte Bianco, Monte Rosa
Longest run 1.8kms
Ave vertical 1300-1800m
Geneva (100km)
In detail
With heli-skiing being banned in France, Italy is a natural choice for exploring the high peaks around the Monte Bianco and Monte Rosa massifs.
Heli-skiing on the Italian side of Monte Bianco, easily accessed via the Mont Blanc tunnel that connects the pretty ski resorts of Chamonix and Courmayeur, takes you around the mighty peaks of the Aosta Valley and into the 4000m peaks around Gressoney and Valgrisenche near Monte Rosa.