Lapland ski holidays
Mystical Northern Lights and Midnight Sun in Lapland
Skiing under the Northern Lights?
When you are on your Lapland skiing holidays, there is a very good chance you will see the best light show on Earth - the amazing Northern Lights. Also known as Aurora Borealis, this phenomoen is the glow of solar particles blown into the earth's magnetic field more than 60 miles above the earth's surface at speeds up to 35,000 miles per hour. Norway, Sweden and Finland have the best ski resorts for seeing the Northern Lights as they are so far North close to the Arctic Circle.
Auroras are natural light displays in the sky, usually observed at night and can be incredibly bright, multihued and fast moving. The most common color is a brilliant yellow-green. Colorful northern lights displays can produce red, blue and purple patterns. Displays usually occur about sixty or seventy miles above the earth's surface - about ten times higher than a jet aircraft flies - and can extend hundreds of miles into space.
Where can I see them?
As the phenomena occurs near the magnetic poles, to get the best views, you need to be as far north as possible such as skiing in Finland, Sweden and Norway. Other notorious spots include the north western parts of Canada, Alaska, Greenland, Iceland and over the north coast of Siberia. However, northern lights have been seen as far south as Scotland but this is fairly rare.
Southern auroras are not often seen as for some reason, they are concentrated in a ring around Antarctica and the southern Indian Ocean. Autumn, winter and spring are usually the best seasons for seeing the northern lights with the best displays occuring when it's sub-zero and clear skies.
Popular ski resorts to see the Northern Lights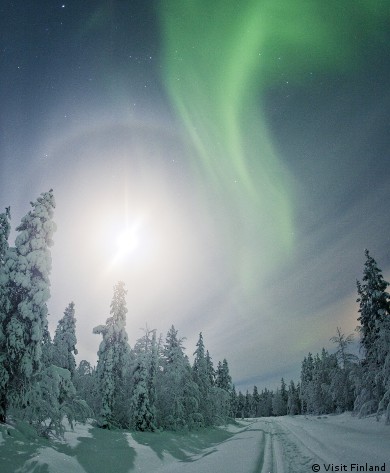 Northern Lights can be seen in the northern or southern hemisphere, in an irregularly shaped oval centred over each magnetic pole. The lights are known as 'Aurora borealis' in the north and 'Aurora australis' in the south. Some of our most Northerly ski resorts are in the perfect spot for seeing the Northern Lights if you go at the right time of year.
One thing to remember is that the winter months tend to have the longest nights and the coldest days so our recommendation is spring when the days are longer and warmer. If you are thinking of a Lapland ski holiday in Norway, Sweden or Finland, we feature several ski resorts that are perfect for seeing the Northern Lights....
Lapland ski holiday rentals
Across northern Sweden, Finland and Norway, you can experience the thrills of staying in a traditional log cabin. Whilst there are hotels and apartments to rent, the experience of staying in a log cabin, surrounded by deep forrests with an open log fire burning away is hard to resist. Many of the log cabins are very old, with loft coversions (ideal for older kids) although there are newer developments in the main ski resorts with all the mod-cons.
Renting a log cabin is very popular amongst the locals and they tend to get booked months in advance - they are ideal for family Lapland ski holidays offering flexibility and space, value for money plus great fun.