Luxury Ski & spa resorts
Best Skiing & Mountain Wellness Retreats acoss the Alps
Heading down a mountain at speed on skis versus chilling out in a sauna! They are about as far from each other as you can get in terms of ways to pass the time. But think about how each makes you feel and you realise they are a natural combination blending the physical nature of skiing with the psychological benefits of relaxation.
These days, the world's top mountain hotels have full-service spas and sophisticated treatment menus to rival anything to be found in a city five-star hotel. Wellness & spa is fast becoming an essential ingredient of a ski holiday.
Off piste and into the spa... what better way to relax after an exhilarating day on the slopes than with a dip in the pool, a sauna or a massage. Saunas have long been a quintessential part of a ski holiday, but world class spa facilities and modern treatments such as hot stone massage, infra-red cabins, body wraps and colour therapy are becoming increasingly popular in many hotel and ski resort spas.
As part of our ski holiday range, we feature some of the established and up and coming ski spa resorts and ski spa hotels in the Alps. Each of our featured spa hotels have a designated spa area, sauna, steam room and jacuzzi, plus a range of signature treatments.
Featured ski & spa resorts
Chamonix
Chamonix has entered the spa & wellness market in a big way with the opening of the famed QC Terme. This spa & wellness centre offers state of the art facilities including a healthy dining experience.
Within its 3000 square meters, you can enjoy more than 30 wellness activities for a multi-sensory journey, as well as an infinity pool that is reflected in adjacent alpine lake water, with breathtaking views of the Bossons Glacier.
Bad Gastein Spas
Bad Gastein is a stunning ski spa resort, perched on the side of a gorge, in the heart of the Hohe Tauern National Park close to Salzburg.
The "Gastein Cure" offered by the local spas combine the therapeutic properties of the thermal water, vapour bath and the healing cave assisted with radon gas therapy. The recuperative nature of the Gastein Cure attracts visitors from around the world who are looking to feel better mentally and physically.
The Gastein spa hotels offer various packages including ski-spa packages during the winter season which includes treatments of your choice throughout your stay.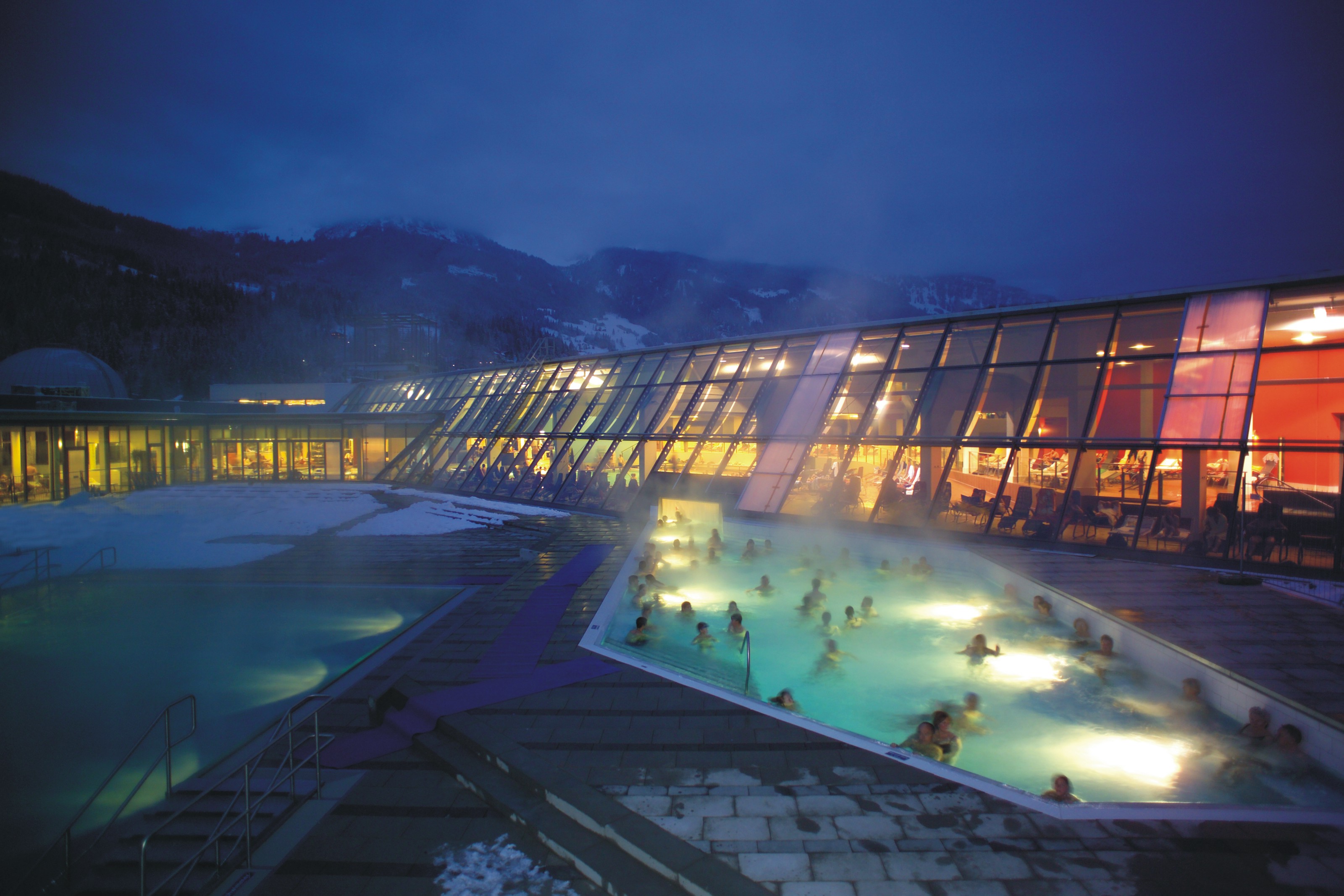 Leukerbad Spas
The stunning village of Leukerbad is home to the largest thermal and wellness resort in the Alps with over 30 spas attracting an international clientele 365 days a year. Sitting at 1411m and surrounded by 4000m towering peaks, Leukerbad is an all year round destination.
Around 3.9 million liters of bubbling natural thermal waters of up to 51°C (122°F) are used by the spas and in and outdoor pools every day. The Therme is the largest spa and pool in Leukerbad and is popular with families. When the young ones have finished their morning ski lessons, there is no better way to keep them entertained than in the warm waters of the spa pools - rain or shine, they are fun for all the family.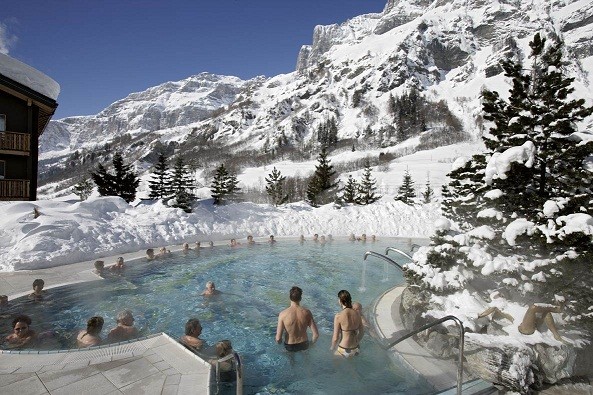 Bormio Spas
Sitting at an altitude of 1225m at the base of the Stelvio Pass in the heart of the Alta Valtellina, Bormio is steeped in history with its medieval old town and famous natural hot springs dating back to Roman times.
There are 9 thermal springs between 1280m and 1420m on Mount Reit inside the Monumental Park of Bagni di Bormio. The water temperature ranges between 36° to 43° C depending on the season - hotter in winter as the rain cannot penetrate the frozen ground.
The spa hotels here are known throughout the world and include the luxurious Bagni Vecchi Spa that offers beauty and wellness treatments in its impressive facilties that also include Roman baths.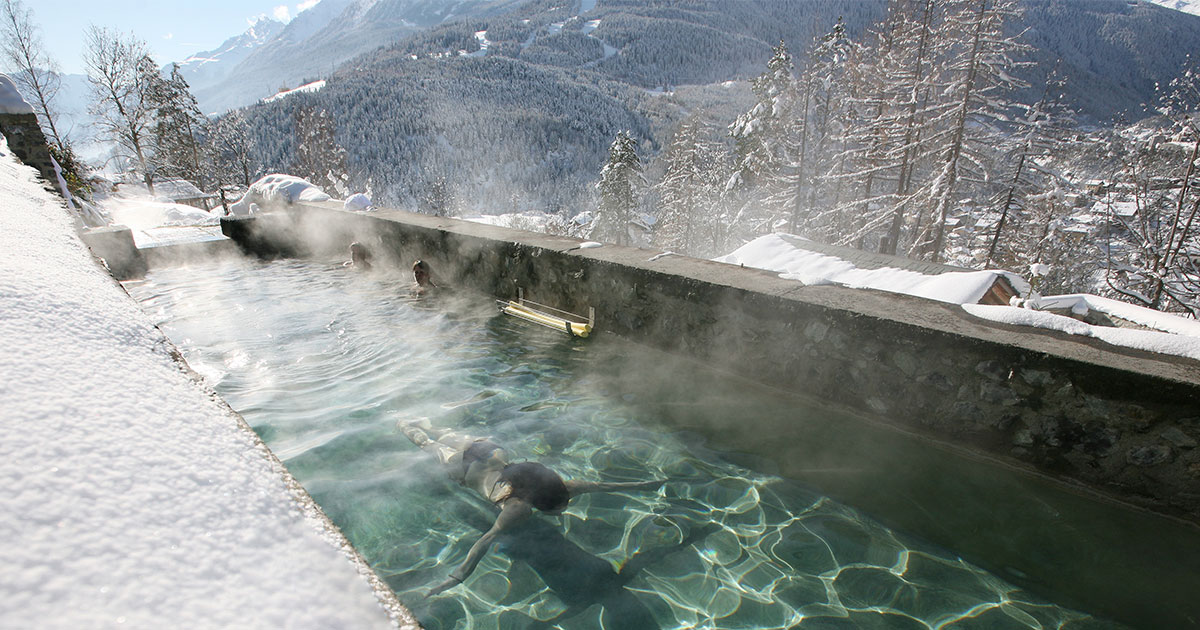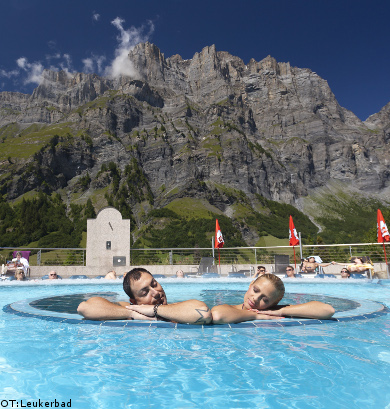 Why is a spa session so beneficial?
Spa treatments are a great way to start your holiday as it gets you in that holiday mode - no more work! but, depending upon the treatment, they can help improve circulation and increases muscle and tendon elasticity which helps reduce the chance of injury on your first day - a ripped achillies is not much fun.
Likewise, a post-ski massage improves circulation, helps to break down the build-up of lactic acid that can occur after a good work-out - exactly the same as going to the gym - and helps prevent that feeling of stiff muscles the next morning.
Spring, Summer & Autumn
Outside of the skiing season, the resorts with spas are still in high demand with some often busier than the winter season. One of the reasons for this is that with no snow, the mountains are more accessible to non-skiers with kilometers of hiking trails and mountain biking paths open. Another reason is that more people are becoming aware of the benefits that some of the treatments can have on your wellbeing.