Finland - Lapland ski holidays
Holiday rentals - ski chalets & cabins in Finland
Ski holidays in Finnish Lapland - it doesnt get much better than skiing in pristine wilderness within the spectacular Arctic Circle. With natural beauty everywhere including the night sky with the green and white shades of the Northern Lights and the deep blue of the Kaamos (twilight), you feel like you are on a different planet!
Finland has many ski resorts with some being world class including Levi and Ruka. There are over 18000km of pistes in Finland spread across more than 200 ski resorts, many of which are in Lapland around the Arctic Circle.
Skiing in Finland, within the region known as Lapland, means superb snow, a ski season typically running to the end of May and long days from March onwards - an unforgettable experience.
The key difference to skiing in the Alps is that the mountains (called "Fells") are not that high. However, being so far North, you do get masses of snow down to the resort level which means all the pistes end up in the resort.
Best time to ski in Finland
The Finnish ski season typically lasts a good six months from early November through to May and usually with very good snow conditions throughout.
The best time to go skiing in Finland is from March onwards where the days are warmer and lighter - December and January can be especially cold with most of the day in darkness although there is a good chance of seeing the Northern Lights!
Things to see & do
During the winter, Lapland comes alive with so many things to see and do for all ages...
A visit to the Santa Park near Ruka
Northern Lights
Snow mobile safari
Dog sleighing
Reindeer safaris and reindeer village
Ice fishing
Featured Ski Resorts in Finland
Summer holidays in Lapland ski resorts
In summer, when the snow and ice has melted and the valleys give way to warm long sunny days, the people of Finland like to get outdoors.
Many Finnish ski resorts in Lapland can be busier during the summer than in the ski season and the holiday rentals, especially the log cabins for rent, typically get booked up months in advance. Some of the most popular outdoor activities are:
Mountain biking
Hiking
Fishing
Swimming
Sailing
Kayaking
White water rafting
In Northern Finland in the heart of Lapland, the area is full of National Parks such as Luosto National Park, which are teeming with lakes and rivers. These are the focal point of many holidays where water activities are very popular.
The difference between a summer holiday close to the equator and that in Lapland is the "Midnight Sun" - it never really goes dark. The days are so long that you can enjoy your favourite sports or just chilling by the camp fire late in to the evening. In fact, towards the end of the ski season, its possible to be on the slopes at midnight!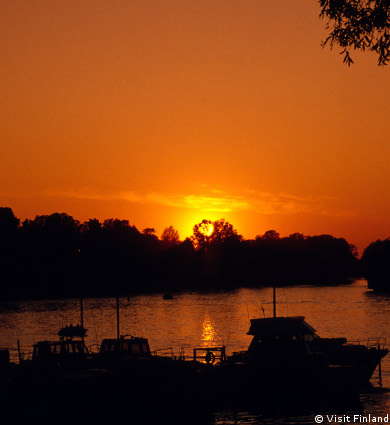 Our view on skiing in Finland
Ski holidays in Finland - a country with so much pristine natural beauty from it's Arctic Lapland to the countless lakes and rivers. Lapland ski holidays cater for everyone no mattter what age and, if on a family Christmas ski holiday to see Santa, what better way to relax than renting a log cabin or apartment - great fun, flexible and value for money.
List your Ski Chalet
Ski holiday rentals are getting more popular with travellers from families to adventurers.
List your chalet on MyChaletFinder today!
List your property