India heli-skiing and ski tours
High altitude skiing, wild, remote and spectacular scenery
Where could be better than skiing in the world's highest mountain range - the mighty Himalayas? The answer is probably nowhere if you like high altitude untracked terrain, deep powder and being surrounded by towering 7000m peaks.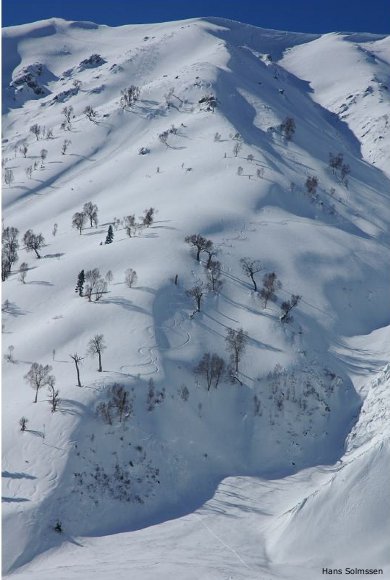 India - facts & figures
| | |
| --- | --- |
| Ski season | Dec to May |
| Best time for heli-ski | Jan & Feb |
| Terrain | Intermediate to Experts |
| Typical verticals | 1000m to 3000m |
| Drop-off points | Up to 5000m |
| Ave Temp at 5000m | Ranges -20C to -40C |
| Highest lift | Gulmarg 4000m |
Some of the best heli-skiing and guided ski tours can be found in the foothills of Kashmir and Himachal Pradesh north of New Dehli.
These are not really hills as the ski resorts or base camps for heli-skiing tend to sit around the 2000m mark - higher than many of the the top lift stations in the Austrian Alps!
The best time for heli-skiing in India is April and May - when you get the corn snow typically associated with spring skiing. However, at 4000m and above, there is little moisture in the air and so the snow is "champagne powder.
Also, at these altitudes, the air temperature is typically around -20°C and can swing massively even lower at short notice. Have the right quality and amount of protective clothing is essential - several layers are best so you can shed a few as once at lower altitudes, the temperatures can rise dramatically especially in May.
When deciding on a heli-skiing adventure in the Indian Himalayas, you have a choice of several areas each having its own unique characteristics.
Jammu Kashmir is home to Gulmarg, India's best known ski resort and is the base for many heli-skiing operators. Sitting at 2000m in the Pir Panjal Range, Gulmarg is also home to the world's highest gondola reaching the dizzy height of 4000m.
The Pir Panjal Range provides a huge variety of terrain with drop-offs anywhere from 3000 to 5000m. Heli-skiing here means an almost infinite number of itineraries to choose from - short steep decents for experts to long cruising bowls for intermediates. And, if poor weather prevents helicopter flights, you can always take the gondola!
Getting there
Fly to Srinagar and then take a taxi up to Gulamrg ski resort. It takes around 1 hour to cover the 40km drive.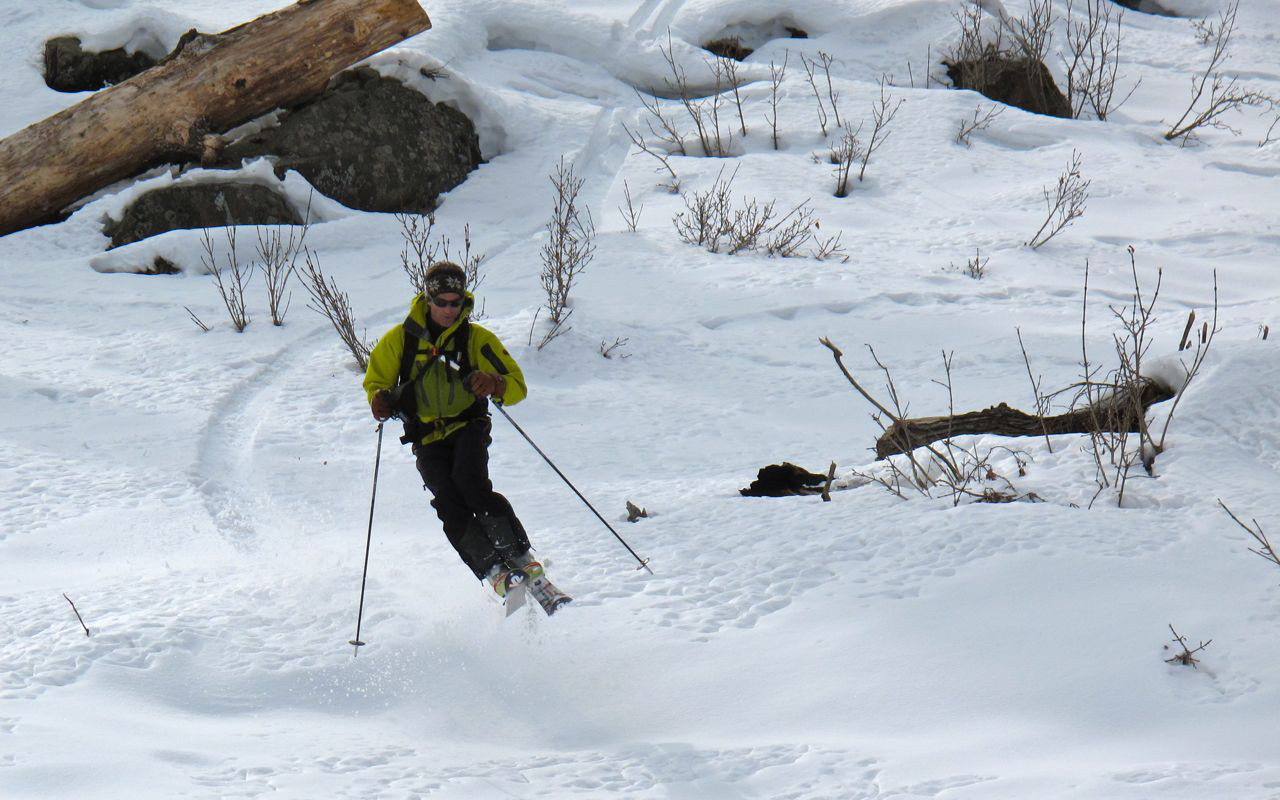 The state of Himachal Pradesh is home to several excellent heli-ski areas such as....
Rohtang Pass
Chandrakhiani Pass
Deo Tibba
Hanuman Tibba
All of these are close to the main town of Manali where many heli-skiing operators are based.
Getting there
Access to the main heli-skiing area of Manali is via the local airport at Kulu. It takes 90 minutes on a domestic flight from New Dehli to reach Kulu - 500km due north. From kulla, it takes another hours drive to reach Manali passing through some amazing landscapes - a highlight in itself.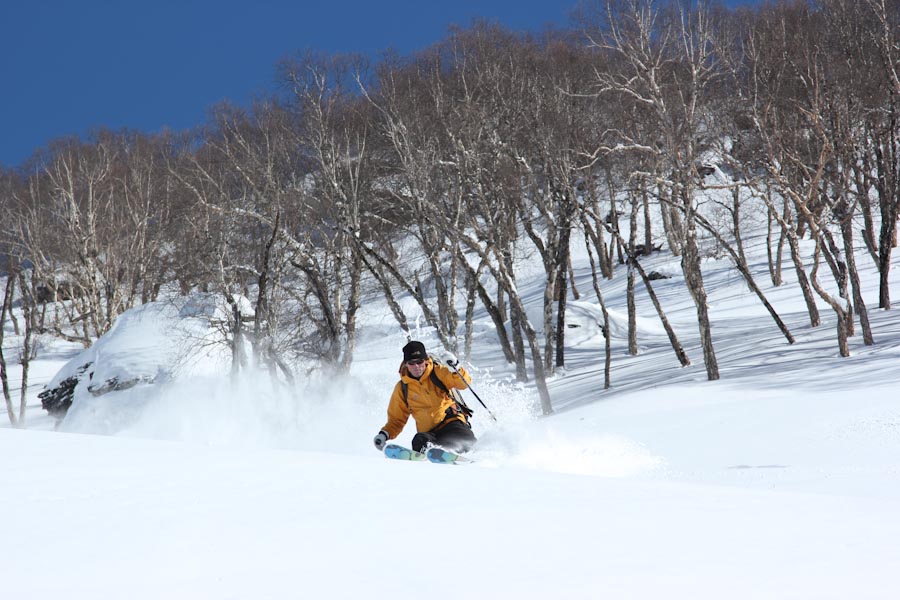 And when you are not heli-skiing, there are are many natural wonders everywhere from the incredible glaciers to the hign mountain lakes. Also possible on down days, if the weather is too bad for the helicopter, you can try...
Snowmobile safari
Mountain biking
Ski touring
Exploring the ancient mountain villages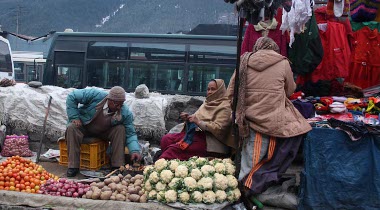 The weather in the Indian Himalayas can be very unpredictable with snowfall occasionally coming in the summer months! However, snow usually starts falling mid December and continues up to late March / early April. Whilst the heli-skiing season normally runs from January to April, many operators say the best time of year is between mid January and the start of March where the snow base is at its best and the temperatures are on the up.
Heli-Ski operators
To help you choose your heli-skiing operator, Mychaletfinder has teamed up with some of the leading companies who offer heli-skiing packages. Just click on the links below for further information.
Swiss Guides - Gulmarg Ski & Heli-Skiing Tours
Book Now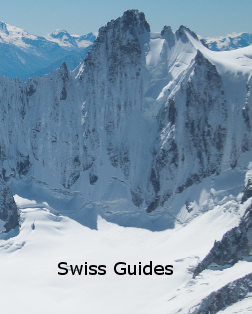 At a glance
Pir Panjal Range
Max group of 12 + 3 guides
Fitness rating 3/5
Good off-piste technique required
Srinagar transfers
Vertical 2000m
Gulmarg 3* hotel
Half board
In detail
Swiss Guides have been organising ski tours and ski safaris around the world for over 30 years. Lead by Hans Solmssen, the professional guides will show you the very best of Gulmarg and the surrounding valleys exploring hidden couloirs, stashes of powder and much more.
From the top of the gondola at 4000m, there is so much choice but the first 1000m is basically deep powder. From the mid station at 3000m, you make your way down to the lower pine forests and through the ancient villages of Drang and Tanmarg.
Our heli-skiing tours take you up to the dizzy heights of 5000m where you will experience pristine snow, jaw-dropping vistas and verticals of up to 3km!