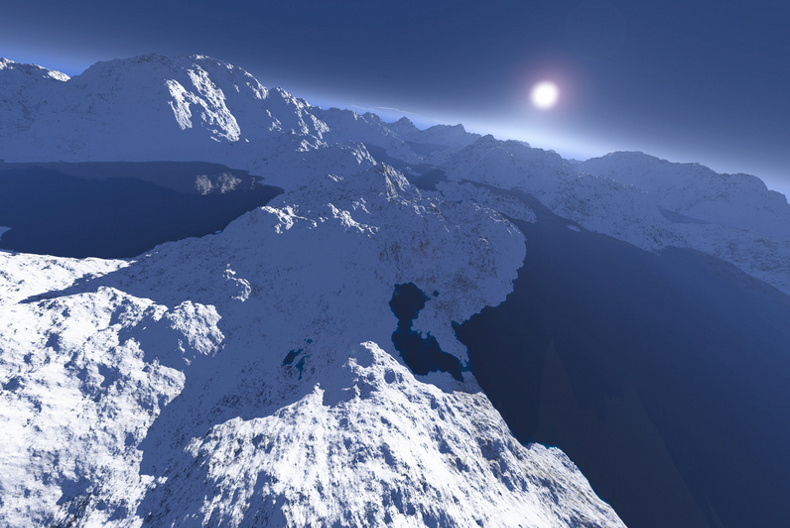 Heli-skiing in Kyrgyzstan, Tien-Shan mountains
Heli-skiing in Kyrgyzstan
Kyrgyzstan is basically a land of towering peaks with around 95% of the country lying in the mountains of Tien Shan, otherwisw known as the Cellestrial Mountains and home to 6582 glaciers! The country is sandwiched between China to the South and Russia to the North and has a Nomadic population with a passion for mountain life.
Tourism is certainly on the increase and the ski resorts are starting to invest in their infrastrucure althoughby no means (yet) on a par with Eurpoean or North American standards. However, what the local ski resorts lack in terms of first class amenities off the mountains, they certainly make up for it on the mountains - the heli-skiing offers high drop-offs (4500m), long runs, good snow conditions and superb weather.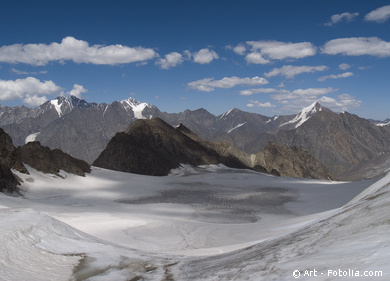 Kyrgyzstan - facts & figures
| | |
| --- | --- |
| Mountain range | Tien Shan |
| Heli skiing season | Feb to early April |
| Ski season | Dec to March |
| Capital | Bishkek |
| Currency | Kyrgyz |
| Language | Kyrgyz & Russian |
| Population | 5.5 million |
| Time (Bishkek) | GMT +6 hours |
When deciding on a heli-skiing adventure in Kyrgyzstan, you have a choice of several areas each having its own unique characteristics. And, if you are planning on visiting several areas on your heli-skiing trip, bear in mind that the roads end where a city or towns perimter ends. After that, its snow, ice, mountains and fjords so transport is by boat, plane or helicopter.
The main ski resort used as a base for heli-skiing in the Terskei Ala-Tua range is Karakol. Its a small village sitting at 2300m at the North Eastern end of Lake Issyk Kul - the second largest mountain lake in the world after Titikaka in Peru. The local ski area is just 7kms away and is the base camp for heli-skiing operations.
As with other heli-skiing drop-offs, glaciers are the main theme and include...
Suusamyr valley
Manas glacier
Issyk-Ata glacier
Alamedin glacier
The drop-off points range between 3000m and 4500m giving a maximum verical of 1200m and a longest run of 7km.
In poor weather (rare from January onwards), Karakol does have 5 ski lifts serving 20km of pistes - the longest being 3.5km and delivering 800m of vertical from the top lift at 3040m. In the resort, there is a hotel, restaurant and sauna and various activities such as snowmobile safaris.
Getting there
Karakol is 400km from Bishkek and takes 2 hours by helicopter from Manas airport at Bishkek.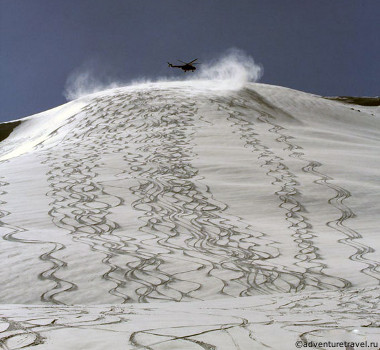 The Kyrgyz Ala-Too range is impresssive with drop-offs ranging from 3800m to 4200m. The runs from these drop off points provide vertical of 500m to 130m with the length being anywhere from 1.5 to 8kms. Some of the highlights of this area are the glacial runs -there are many to choose from but include...
Suusamyr valley
Toktogul glacier
Issyk-Ata glacier
Belogorka gorge
If conditions are poor such that its too dangerous for heli-skiing, the local ski area near the Too Ashu pass is a good option. There are several pistes with the longest being nearly 3km. In the resort, there is a cafebar, sauna, ski shop and health center.
Getting there
Too-Ashu is situated on the southern slopes of the Too-Ashu Pass at 3000m and is 120km from Bishkek. The journey takes around 2.5 hours by car following the main Bishkek-Osh highway or just 45 minutes by helicopter.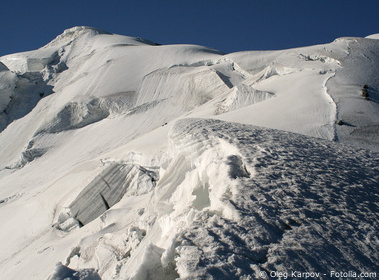 By plane
Most of the major airlines fly in to the capital - Bishkek. From the airport, its 120km to Too-Ashu or if you are venturing up to Karakol at Lake Issyk Kul, the journey is 400km.
The helicopter to Karakol tales around 2 hours but there are also buses and taxis - these can be picked up at the West Bus Station called Zapadnyi Avtovokzal.
And when you are not heli-skiing, the capital city is worth exploring with its many street markets and temples. Also possible on down days, if the weather is too bad for the helicopter, you can try...
Snowmobile safari
Traditional alpine skiing in the ski resorts
Snowshoeing tours around the mountain forests of Bishkek
Back-country ski touring and mountaineering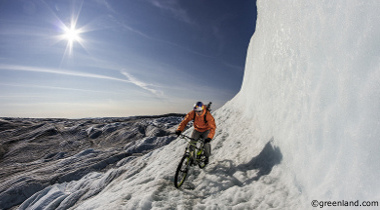 Liquid error: internal
The climate in Tien-Shan mountains is generally "warm" in the winter season and ranges between +5 to -10 degrees centigrade in the early season to +10 to -5 in spring .
The snow depth is usually between 1.5m and 2.5m above 2000m giving ample cover for both heli-skiing and back country touring.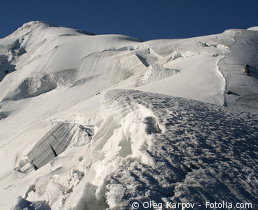 Glaciers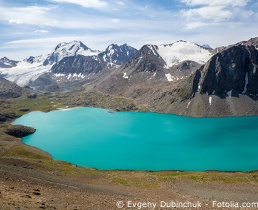 Lakes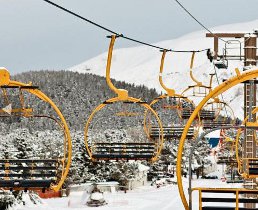 Karakol ski resort
Heli-Ski Operators
To help you choose your heli-skiing operator, Mychaletfinder has teamed up with some of the leading companies who offer heli-skiing packages. Just click on the links below for further information.
Ski Pro Kyrgyzstan Heli-Ski & Back Country Touring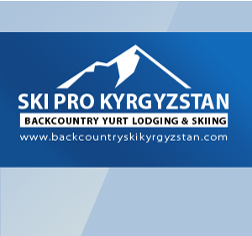 | | |
| --- | --- |
| Based | Bishkek |
| Duration | 8 days |
| Flying time | 9 hours |
| Vertical | 3000m daily |
| Group sizes | 13 |
| Fitness Level | 3/5 |
| Technical Ability | Competent off-piste |
We offer a variety of flexible Heliskiing/Heliboarding packages for 8 day expeditions.
We also offer guided and self guided backcountry ski tours based on the network of our backcountry yurts, ski traverses, ski mountaineering, snowshoeing and cat skiing in Kyrgyz Tien Shan mountains from 5-10 days in length.
When the weather is too bad to fly, there is snowmobiling, snowcat tours and skiing in Karakol ski resort.