Canazei Ski Schools
Skiing Lessons, Off-Piste Ski Clinics, Ski Touring & Mountain Guiding in Canazei
There are several Canazei Ski Schools and High Mountain Guide companies in the resort each offering a comprehensive ranges of lessons for all ages and abilities, for both skiing and snow boarding.
Canazei is a great place to learn to ski and snowboard as the pistes, whilst at high altitude, offer progressive terrain especially around the gentle slopes above the village. Canazei also offers some amazing steeps, fantastic intermediate and advanced on-piste and with its direct access in to the famous 24km Sella Ronda circuit, Canazei links in to over 12 fantastic resorts around the Dolomites. From novice to expert, the ski schools in Canazei and guided off-piste tours will ensure you get to experience the best of the Italian Dolomites.
Summer Activities
Some of the ski schools and mountain guides operate during the warm summer months. Although there is no summer skiing in Canazei, there are plenty of other activities for all ages such as....
White water rafting
Canyoning
Guided via ferrata climbing
Mountain climbing
Hiking tours
Glacier walks
Off-Piste Ski Guiding & Touring
To experience the full extent of what Canazei has to offer, why not try some off-piste touring. Expert local guides will navigate you around the high mountain trails in safety taking you on an adventure over the magical glaciers around the Marmolada and steeps in the Arabba area.
In addition to improving your on-piste technique, the ski schools typically offer powder courses, off-piste clinics and avalanche awareness workshops which are invaluable.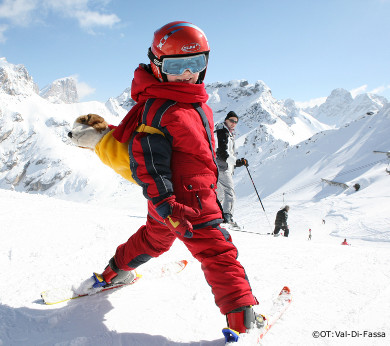 Sella Ronda
One of the best known ski tours in Europe, the Sella Ronda is a 26km circuit around the Sella Massif and can be skiied clockwise or anti-clockwise by intermediate skiers and above. Set amongst breathtaking scenery, the tour takes you through the four Ladin valleys of Val Gardena, Alta Badia, Val di Fassa and Arabba.
Marmolada
The Marmolada is the highest mountain in the Dolomites reaching up to 3343m and is easily accessed from Canazei via Arabba. It takes about 40 minutes to ski to the base cable car from Arabba and it takes a further 2 to get to the top. The best known run is the Bellunese from Punta Rocca at 3300m down to Malga Ciapela, a vertical drop of 1800m and 12km long - truly amazing and stunning scenery all the way - one of the best 1 day ski tours on offer.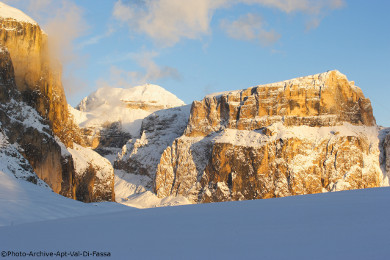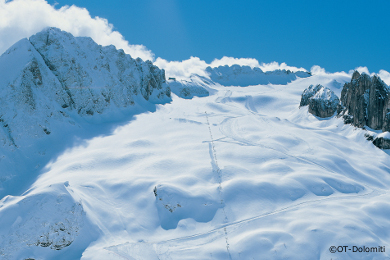 Ski School Canazei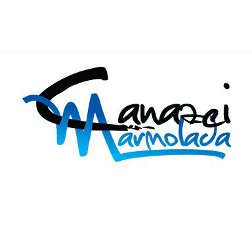 | | |
| --- | --- |
| Kindergarten - Childcare 18 months+ | ✔ |
| Childrens lessons (3-4 years and 5+) | ✔ |
| Children snowboarding (4-8 year olds) | ✔ |
| Junior Club (13-18 year olds) | ✔ |
| Private and group ski lessons | ✔ |
| Performance off-piste clinics | ✔ |
| Freestyle, telemark & cross-country | ✔ |
| Guided ski tours | ✔ |
| English speaking instructors | ✔ |
The Scuola Italiana Canazei Ski & Snowboard School provides ski, snowboard and other lessons for children and adults no matter what your level of experience - from complete beginners to experts.
We offer a choice of group or private lessons for both skiing and snowboarding plus a range of other courses and guided ski tours.
For children, there are several lessons available starting from 3 years old and the Kindergarten provides childcare for those aged 18 months and above and baby sitting may also be booked in 1 hour sessions.
Canazei Ski School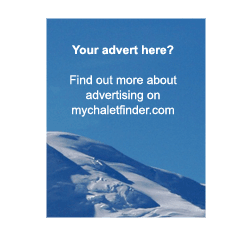 | | |
| --- | --- |
| Kids ski lessons | ✔ |
| Private lessons | ✔ |
| Group lessons | ✔ |
| Off-piste guided tours | ✔ |
| Glacier tours | ✔ |
| English speaking instructors | ✔ |