Verbier ski schools
Skiing lessons, ski touring & mountain guiding in Verbier
There are several Verbier Ski Schools and companies in the resort each offering a comprehensive ranges of lessons for all ages and abilities, for both skiing and snow boarding. Verbier is ideal for learning as the pistes, whilst at high altitude, offer progressive terrain especially around the gentle slopes of Les Eserts towards the bottom of the resort. Verbier also offers some amazing steeps, fantastic intermediate and advanced on-piste and is renowned as one of the best off-piste adventure playgrounds in Europe. From novice to expert, the ski chools and guided off-piste tours will ensure you get to experience the best of Verbier and Les 4 Vallees.
Swiss Guides - Mountain Adventures
Book Now
At a glance
Off-piste back country skiing
Ski tours - ski safari
May-June: Alpine ski mountaineering
Avalanche courses
Haute Route glacial trek
Snowboarding
Multi pitch rock climbing
Heli-skiing
E-biking
Native English speaking guides
In detail
Swiss Guides have been organising ski tours and ski safaris around these magical mountains for over 30 years. Lead by Hans Solmssen, the professional guides will show you the very best of Verbier and the 4 Valleys exploring hidden couloirs, stashes of powder and much more.
And its not just the 4 Valleys, Suisse Guides organise heli-skiing trips to some of the world's best locations including Greenland and Gulmarg in Kashmir.
In May and June, alpine ski mountaineering is at its best and our tours combine a mix of mountain climbing and skiing.Throughout the summer, we offer glacier trekking and mountaineering.
Altitude Snow Sports Ski School Verbier
Book Now
At a glance
Childrens group ski lessons
Private lessons
Snowboarding
Off-piste coaching
Guided off-piste ski touring
Performance clinics
Corporate lessons
Ski instructor courses
Multi lingual ski instructors
In detail
Welcome to Altitude, Verbier's British Ski and Snowboard School. We are a team of internationally qualified instructors renowned throughout the alps for our high level of customer service.
Altitude run private ski and snowboard lessons in their Verbier Ski School for all ages and levels of ability. They also offer advanced performance lessons & off-piste coaching for intermediate and advanced skiers looking to challenge themselves in the powder snow and beyond.
Performance Clinics are are a great way to improve your technique, discover some of Verbier's challenging slopes around Mont Fort and of course to have fun and meet other talented skiers or snowboarders.
At a glance
Childrens ski lessons
Adult and children group lessons
Private children and adult lessons
Performance off-piste clinics
Snowboarding
Freeriding camps
Cross-country skiing
Telemarking
Heli-skiing
Snowshoeing
Native English speaking instructors
In detail
Adrenaline International Ski & Snowboard School offers the best value for money in Verbier.
For group lessons, we limit the maximum number to 6 in childrens and adult classes to maximise your learning.
Our private lessons offer you a high quality personalised service and tuition with a professional and experienced instructor.
Every Saturday from 1pm to 4pm starting on the 19th December 2020 through to 3rd April 2021, we are running a freestyle & freeride club giving you to learn new techniques whilst exploring the 4 Valleys ski area.
Off-piste ski guiding & touring
To experience the full extent of what Verbier has to offer, why not try some off-piste touring. Expert local guides will navigate you around the high mountain trails in safety taking you on an adventure over the magical glaciers around Mont Fort and beyond.
The ski schools typically offer powder courses, off-piste clinics for skiers and boarders and avalanche awareness workshops which are invaluable.
Mont Fort
This is one of the classic descents in the 4 Valleys from the top of Mont Fort at 3329m down to Siviez. It is one of the longest trails and delivers 1600m of vertical. The tour starts by navigating your way to De Tortin and then taking the lift up to Col des Gentianes and then to the top of Mont Fort. From here, its deep powder all the way back down to Siviez at 1730m in the Nendaz sector.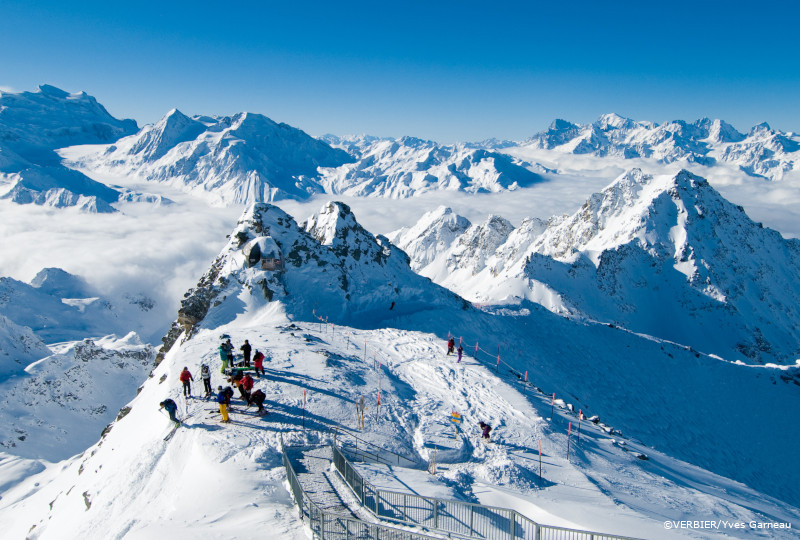 Haute Route
For a long ski tour, you can join the famous Haute Route guided tour that starts in Chamonix and passes through Verbier on route to Zermatt. Ski touring is getting more popular and this is one of the best around spending the evenings in mountain huts.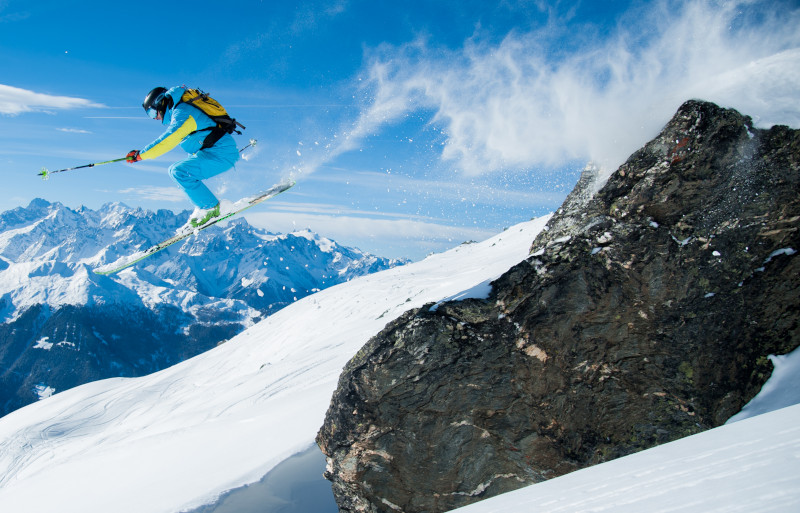 Summer activities
Some of the Verbier ski schools and mountain guides operate during the warm summer months. Although there is no summer skiing in Les 4 Vallees, there are plenty of other activities for all ages such as....
White water rafting
Canyoning
Guided via ferrata climbing
Mountain climbing
Hiking tours
Glacier walks
Guided e-bike tours