Chamonix ski schools
Children's ski lessons, ski touring & guiding in Chamonix
There are several Chamonix Ski Schools and High Mountain Guide companies in the resort each offering a comprehensive range of lessons for all ages and abilities, for both skiing and snow boarding.
Chamonix ski resort is ideal for learning as the pistes, whilst at high altitude, offer progressive terrain especially around the slopes of Le Tour at the top end of the Chamonix Valley. Chamonix also offers some fantastic intermediate and advanced on-piste and is renowned as the off-piste adventure playground of Europe - if not the world! From novice to expert, the Chamonix ski schools will ensure you get to experience the best of Chamonix.
At a glance
Children ski lessons
Private ski & snowboard lessons
Vallée Blanche & ski touring
Husky Rides & Winter adventures
Snowboarding
Mountaineering, Via Ferrata
Paragliding
Snowboard, Splitboard, Freestyle
Lessons in French or English
In detail
Evolution2 ski and snowboarding school caters for all levels of skier and boarder from absolute beginners to experts and offer specialist instruction for children at the Panda Club.
Lessons may be booked on a group basis or we can organise private lessons that range from 1 to 3 hours.
Our expert Instructors & Guides can teach you off piste, give you mega powder days, guide you down the Vallee Blanche, offer ski touring and many summer mountain adventures including climbing Mont Blanc at 4810m!
Off-Piste ski guiding & touring
To experience the full extent of what Chamonix has to offer, why not try some off-piste touring. Expert local guides will navigate you around the high mountain trails such as the Vallée Blanche in safety taking you on an adventure over the impressive glaciers of the Mont Blanc Massif. The ski schools typically offer powder courses, off-piste clinics for skiers and boarders and avalanche awareness workshops which are invaluable.
Vallée Blanche
One of the most famous descents in the world, this full day 22km trip starting at 3842m from the top of the Aiguille du Midi takes you off-piste over glacial terrain and under seracs the size of houses.
Offering spectacular views of Mont Blanc, this guided off-piste tour is suitable for intermediate skiers and above.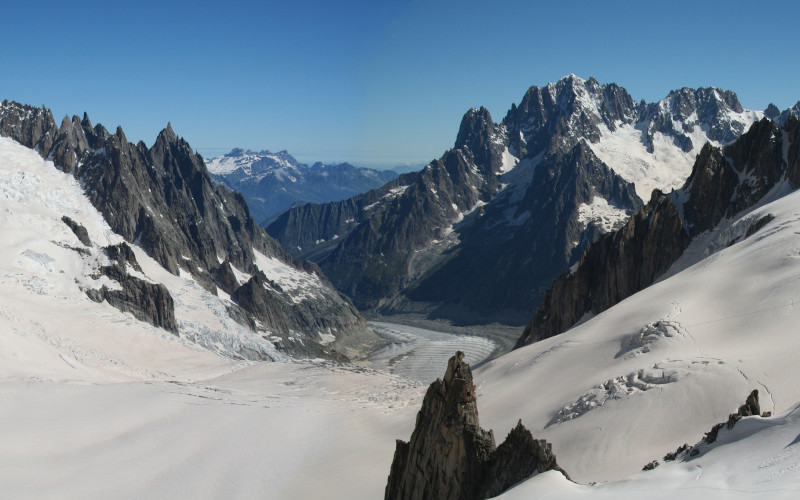 Haute Route
For a long ski tour, the Haute Route from Chamonix to Zermatt is very popular normally taking 6 days where you spend the evenings in mountain huts.
Starting at Grands Montets above Argentière, the route takes you through 120km of some of the most spectacular scenery in the Alps covering 6000m of ascent and descent! This is the ultimate guided tour of a lifetime.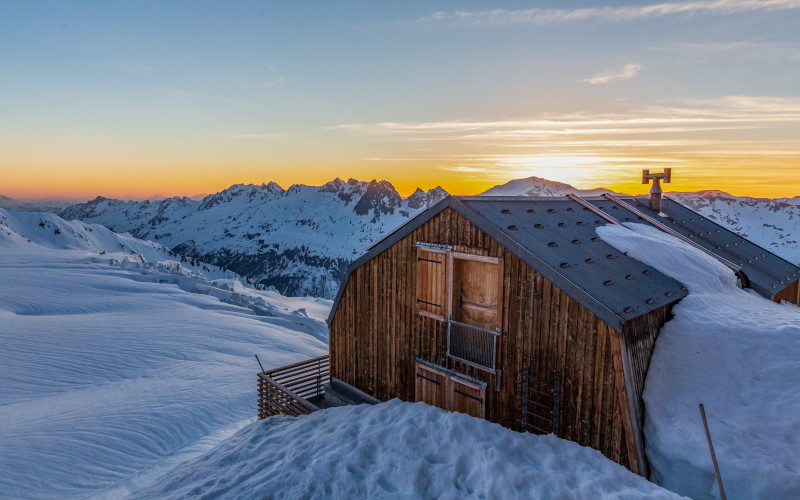 Descent of the Crochues Bérard
This starts off at Flégè where you use skins to reach the Aiguilles Crochues bowl. The 4-6 hours tour takes you through the Bérard valley with Aiguille du Belvedere on one side and Mont Buet on the other - amazing scenery, forests and streams with the tour finishing in the pretty village of Le Buet.
Breche Puiseux
To access this high alpine route, take the Aiguille du midi cable car to the top at 3842m and ski about half way down the Vallée Blanche until you are level with the Refuge du Requin. From here, there is a climb up to and over the Periades glacier before a wonderful ski down the side of Mont Mallet glacier before re-joining the Vallée Blanche. This is a full day tour giving 3000m of vertical!
At a glance
Children ski lessons
Private ski & snowboard lessons
Vallée Blanche & ski touring
Heliski in Italy & Switzerland
Snowboarding
Mountaineering, Via Ferrata
Paragliding, Canyoning
Freestyle backcountry
Lessons in French or English
In detail
Learning to ski or snowboard with Chamonix Sport Aventure is always a source of "fun, excitement and satisfaction"! We teach all ages and levels from children to adults in one-to-one private lessons or in small groups of friends and family.
For ski touring, we offer the classic Vallée Blanchee, the Haute Route to Zermatt and many more plus some fantastic heli-skiing itineraries in Italy and Switzerland.
During the summer, we offer a full range of guided activities including via ferrata, tandem paragliding and mountaineering from beginners to experts.
At a glance
Ski lessons for children & teens
Adult and children group lessons
Private children and adult lessons
Vallée Blanche & off-piste tours
Snowboarding
Freeriding camps
Cross-country, telemark & handiski
Heli-skiing
Freestyle backcountry
Multilingual instructors
In detail
ESF Chamonix has a rich history and has been providing ski lessons for the local and international clients since 1945. The ski school has expanded considerably over the years with its professional instructors catering for children, teens and adults across all alpine disciplines.
Lessons may be booked on a group basis or ESF Chamonix can organise private lessons that range from 1 hour to all day.
Our off-piste guided lessons cover the entire Chamonix Valley, including the famous Vallée Blanche and even Switzerland and Italy.
ESF Chamonix also provide childcare for children aged from 3 to 12 years old.
Summer activities
Some of the ski schools in Chamonix operate during the warm summer months. Although summer skiing on the Vallée Blanche is no longer possible, there are plenty of activities for all ages such as....
White water rafting
Canyoning
Guided via ferrata climbing
Climbing Mont Blanc
Glacier walks