Riksgränsen resort guide & reviews
Apres-ski, ski area, things to see & do
Resort Review
Ski holidays in Riksgränsen - the most northerly ski resort in the world being 300km north of the Arctic Circle. It is not so much a town but an outpost where you go to ski and board and take advantage of the amazing wilderness that surrounds you. Before mid February, its dark all day and the lifts will not be working so the best time to visit is really from mid March where the days are longer. The resort is open right up to the end of May and then again in June for the all day skiing experience.
Riksgränsen ski area guide
This far north means you can ski in the midnight sun during the early summer months or under the Northern Lights in winter - either way, a truly breath taking experience you don't encounter in the European resorts.
For many skiers, Riksgränsen is a unique experience. The combination of amazing nature, heaps of snow with countless variety makes Riksgränsen the obvious choice for skiers and snowboarders year after year.
Off-piste skiing is a big part of Riksgränsen, but there are several pistes for all ski levels with about 25% of the terrain aimed at beginners, 25% intermediate and the rest for advanced and experts.
If you buy the Arctic ski pass, you can also ski in Narvik (Norway), Bjorkliden, Abisko and the Nuolia back-country. However, these trips need to be done with a guide which can be arranged in the resort.
Key information (whole area)
Altitude
504m
Top lift
909m
Family
Beginner
Intermediate
Expert
Piste (km)
19
Longest run
3km

Off Piste

Cross country
32km

Season

Mid Fed to end May
Snowboard parks
1

Heli Skiing

✔

Summer Skiing

✔

Glacier skiing

✘

Babysitting

✘

Creche

✔

Apres ski
Lively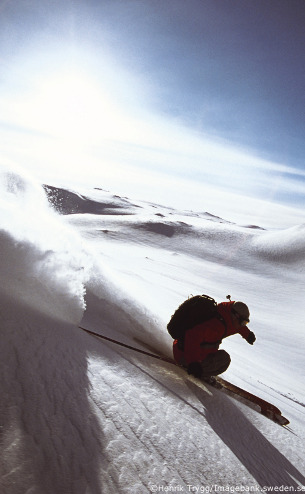 Beginners
The beginner's area is at the top of the mountain where there are some gentle runs
Intermediate
For intermediates, Riksgränsen an ideal resort as most of the pistes are geared up for this level.
Advanced
For the more advanced skier, there are some challenging pistes but the best option is to go heli-skiing where you'll find yourself in the wilderness and superb deep virgin snow!
Heli-skiing
Heli-skiing in Riksgränsen is truly amazing. The mountains in the area close to Riksgränsen provides 700-1000 m vertical and, if you fly in to the more remote areas of Mårma and Kebnekaise, you get up to 1500 m vertical which rivals some of the best heli-skiing in the world. The local heli-ski company offers 1,3 and 5 drop-offs.
Cross country
There are several trails to experience cross-country skiing which is still possible in July where the summer trail opens up at 1228m starting at Låktatjåkko Mountain Lodge.
Things to see & do
Touring on a snow mobile
Dogsled in Björkliden
Snow shoeing
Spa & wellness centre
No trip to Riksgränsen would be complete without a visit to the Ice Hotel
Heli-skiing - skiing in the wilderness on untracked mountains
Visit the Norwegian fjords at Narvik which takes just one hour by train
Après-ski
The après-ski is fairly laid back with several bars and restaurants serving up good local cuisine - reindeer will certainly be on the menu. There is also a large club - Grönan - that is the hub of Riksgränsen in the evenings with DJs and live bands.
Riksgränsen holiday rentals
The accommodation options range from hotels on the edge of Lake Vassiljaure to cabins, lodges, self catering apartments and a hostel. There is also a fantastic Spa that provides massage, various treatments, pool, bubble bath, sauna and 2 outdoor tubs.
Our view on Riksgränsen ski resort
If you like skiing in the wilderness, untracked pistes and touring, Riksgränsen is definitely worth visiting. Guaranteed snow, the Northern Lights and the Midnight Sun make skiing in this part of the world special and a ski holiday to remember. If you like skiing in Riksgränsen, you may also want to look at the following ski resorts...