Lake Annecy & Aravis ski holidays
Skiing & snowboarding around the Aravis massif ski resorts
Lake Annecy sits in the foothills of the beautiful Aravis massif mountain range at an altitude of 447m and is probably the most well known of the French lakes. Its main town of Annecy is very pretty with historic buildings lining the canal footpaths and is the sixth largest town in the Rhône-Alpes region.
Full of cafes and restaurants flanking the canals, you could think of being in Venice. In fact, there is lots of Italian influence in Annecy as just like the whole of the Savoie region, Annecy belonged to the Kingdom of Sardinia until 1860, and the laid back nature of the Italian way of life has rubbed off on the locals over the generations.
A few minutes walk from Annecy heading towards the lake, there is a wonderful grassy park with various lakeside restaurants and bars. It's a great place to chill out, sunbathe and watch the world go by and during the summer, there is normally a fairground with rides and street performers. You can also hire pedalos or motorised boats for cruising around the lake.
The eastern shore is known as Annecy's Côte d'Azur with its lakeside villas, formal country-house hotels and well-heeled clientele. The main village here is Talloires and is well worth an evening out.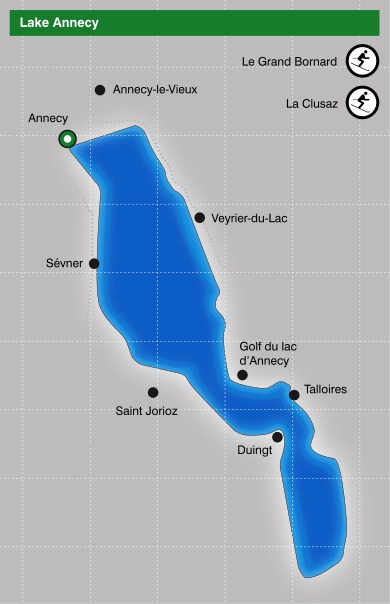 Featured Lake Annecy holiday rentals
In terms of where to around the lake, there is plenty of variety from lakeside villas and self-catering holiday rentals to choose from. The main area is Annecy which is the heartbeat of the lake and this is where you will find many holiday home apartments. A few minutes drive away from the centre, there are stunning traditional chalets looking on to the lake with views of the Massif Aravis mountains and lakeside villas.
See all holiday rentals
Lake Annecy ski holidays
As well as a major summer destination, Lake Annecy is a popular twin-centre holiday resort for people who enjoy the lakes but also want like the thrills of downhill skiing. There are 4 ski resorts within a 40 minute drive of the lake that mainly cater for all levels of skier and boarder. Togther, there are 246km of pistes and 170km of groomed cross-country trails to explore. A little further away and around an hours drive is the wonderful and chic resort of Megeve in the Evasion Mont Blanc carousel with a massive 445km of linked pistes. And, for the ultimate ski touring opportunity, you can explore the vast Portes du Soleil system with 650kms of pistes linking 12 ski resorts including Morzine and Avoriaz.
Summer holidays - things to see and do
Lake annecy is teeming with historic villages, museums and places to see for the whole family. There are numerous white sandy beaches around the lake and with the water temperature during the summer hovering around 24°C, swimming and watersports at les Marquisatsare pleasure port are popular.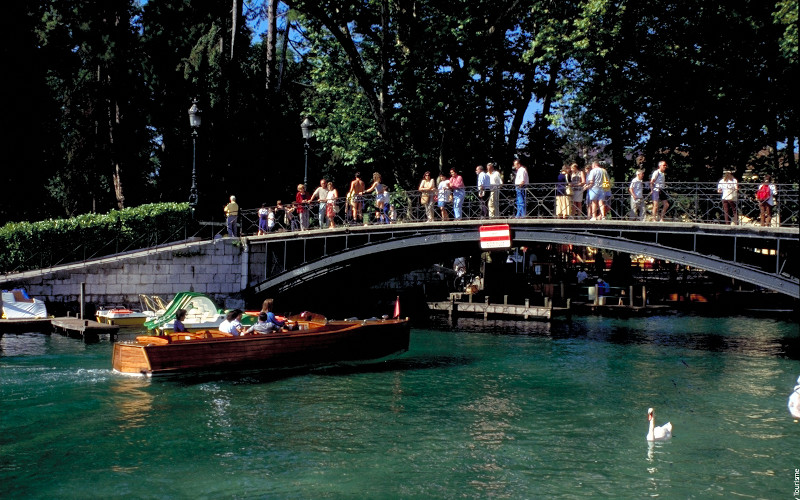 If you enjoy cycling, there are 30kms of track on the west bank used by more than 4,000 bikes a day and takes you along the lake shores and through spectacular countryside. Other top things to see and do...
.
Take a scenic boat steamer ride and tour the lake
Hike to the Angon waterfall
Visit the interesting shops in Little Venice
Visit the Bauges Mountains Regional Nature Park
Our view on Lake Annecy
Lake Annecy is a good base for venturing out and exploring the local Aravis ski resorts and perhaps even do some skiing if you are visiting in the winter season. The closest resorts are La Clusaz and Le Grand Bornand - both next door to each other and around a 40 minute drive from Annecy.
List your Ski Chalet
Ski holiday rentals are getting more popular with travellers from families to adventurers.
List your chalet on MyChaletFinder today!
List your property
View properties in