Bisanne-1500 resort guide
Bisanne-1500 ski area, apres-ski, things to see & do
Resort Review
Ski holidays in Bisanne 1500- a little gem of a ski resort sitting in the mountain pass between Val d'Arly and Beaufortain valley in Villard sur Doron district within Savoie region, France.
Surrounded by mountain peaks and pine forests and just 5km from Les Saisies and 30km from Albertville, you can enjoy extensive skiing in winter and relaxing walks in the summer. Similar to the other traditional villages in this area, the emphasis is definitely on the family, with a laid back atmosphere and lots of facilities for families.
Après-ski
In Bisanne 1500 ski resort, there are now several very good classy restaurants and a few bars for early après ski including a champagne bar - all helping to maintain it's upmarket appeal. However, if you are looking for a wild party - nightclub scene, then this is not the ski resort for you.
Bisanne-1500 Ski Area
If you're looking for a family friendly ski resort, Bisanne 1500 is an ideal choice. It is part of the Val d'Arly and the larger Espace Diamant ski area which was created in 2006 when the ski resorts of....
Key information (whole area)
Altitude
1500m
Top lift
2350m
Family
Beginner
Intermediate
Expert
Piste (km)
185
Longest run
4km
Off piste
Cross country
120km
Season
Dec - April
Snowboard parks
8
Heli Skiing

✘

Summer skiing

✘

Glacier skiing

✘

Babysitting

✘

Creche

✔

Apres ski
Relaxed & Informal
....were linked and together provide 184km of pistes, 87 lifts and 146km of cross country skiing. The outer reaches of the area spread to the Western side of Hauteluce which you can get to by going over the back side of Mont Vores or La Legette. Take the short bus to the other side of Haueluce and then get the lift that connects with Les Contamines - yet another ski area with a further 120km of pistes!
There is also lots of talk (ongoing for several years now!) about linking the Espace Diamant and Evaison Mont Blanc systems creating the largest lift connected area in France - the problem is nobody really knows when it will happen!
What the area lacks in terms of technical and challenging terrain is certainly made up by the stunning views of the Mont Blanc chain. Plus, there are lots of tree runs and wide open pistes that make skiing good fun - no matter what your technical ability.
With so much terrain in the offing and heights ranging from 850 to 2350m, even the most accomplished skier will be hard pushed to cover every inch of the area on a weeks ski holiday in Bisanne-1500 & Les Saisies and around the Espace Diamant.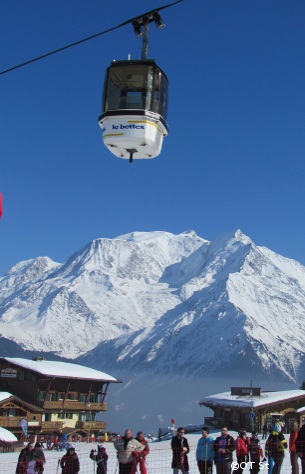 Beginners
Bisanne 1500 and the Les Saisies sectors are perfect if you are starting out for the first time. Lots of wide greens and blues on both sides of the resort will get you touring around in no time.
Intermediate
Intermediate skiing is what the Espace Diamant circuit is all about and we can heartily recommend the pistes around the Mont Lachet and Les Saisies areas. It's also really easy to move around the linked ski resorts so you can start the morning and go exploring.
Advanced
Bisanne-1500, Les Saisies and the whole Espace Diamant area is not known as a mecca for the expert skier and does not have a reputation for serious off piste, but search a little bit and you will find that secret stash of powder in the Les Saisies sector down towards Chard du Beurre and through the trees.
Snow boarding
The area has various snow parks such as Snowpark du Torraz at La Giettaz and Waouland (Boarder Cross) over at Cohennoz / Crest-Voland.
Things to see & do
Snow mobiling
Night skiing
Sledging
Parapenting
Dog sleighs
Zip lines in the Adventure Park
Spa & wellness
A few minutes on the bus to Les Saisies brings you to the Lagrange Spa which has state of the art facilities if you want to chill out and relax off the slopes.
Children
Younger children and tots are well looked after in nearby Les Saisies with it's day care centres plus the Opoualand park over at Crest-Voland Cohennoz which has a dedicated ski area for the beginners.
Featured Bisanne chalets
In terms of holiday rentals in Bisanne, the ski chalets and apartments are exceptional value when compared to some of the main stream ski resorts and you certainly get high quality as the specialist ski chalet & apartment property developers continue with Bisanne's expansion.
See all rentals
Our view on Bisanne-1500
Bisanne-1500 is a new and up and coming addition to the Espace Diamant ski circuit. It is a fashionable and exclusive getaway for couples who like to drink champagne, eat fine food and ski within sight of Mont Blanc and perfect for tranquil family ski holidays with easy access to the ski resort and extensive piste skiing for all abilities.
If you like Bisanne-1500, you may also want to take a look at Le Grand Bornand.