Crans Montana summer holidays
Hiking trails, mountain biking, things to see & do in Crans Montana
A Crans Montana summer holiday can be as relaxing or action packed as you want it to be whether its walking along over 280 km of mountains trails, mountain biking, having a family picnic or touring Vaud and Valais valleys.
You could also be forgiven for thinking that Crans Montana was a beach resort if it wasn't for the fact that it's perched on a mountain side at 1500m. It has 5 lakes where you can sunbathe and swim and there is also the Moubra beach club! Here, you can play beach volleyball, go waterskiing or hire a pedalo - it's just like being in the Med but with far better scenery.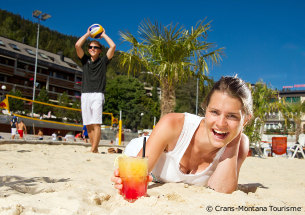 | At a glance | |
| --- | --- |
| Spa & wellness | ✔ |
| Hiking trails | ✔ |
| 18 and 9-hole golf course | ✔ |
| Adventure park in the woods for all the family | ✔ |
| Paragliding | ✔ |
| Tennis and squash | ✔ |
| Canyoning | ✔ |
| Mountain biking | ✔ |
| In and outdoor swimming pools & slides | ✔ |
| Horse riding | ✔ |
| Via Ferrata | ✔ |
| Tree walking & zip-lines | ✔ |
| Beach volleyball | ✔ |
| Hotair balloon rides | ✔ |
Mountain Activities
All the main lifts are open during the summer season so you can access hikes and walks, or take your mountain bike up and have a go at the downhill trails (not for the fainthearted!).
Mountain biking
With 177km of mountain bike trails, Crans-Montana has enough variety to keep all standards of biker entertained plus there is the Kona bike park to try out tricks and jumps.
Golf
Golf is big in Crans Montana and the 100 year old Crans-sur-Sierre Golf Club hosts a number of important golf tournaments including the Swiss Open and the PGA Omega European Masters. There's also a 9-hole Jack Nicklaus course and the Super-Crans and Noas courses that anybody can play on even if you don't have a handicap.
Hiking
There are 280km of hiking trails for all levels around Crans Montana that stretch from the Rhone valley and around the lakes up to the glacier of Plaine Morte.
Families Activities
The marmot trail turns the mountain into a playground and a place to discover the whistling mascot of Crans Montana, from the Cry d'Er at 2200m across the Violettes and finishing off in Vermala at 1800m.
Day Trips
During summer, Crans Montana will be just what you want it to be with so many different outdoor activities and interesting places to visit in the area.
From the resort, there are many possibilities for doing day trips to neighbouring resorts - perhaps for a spot of lunch, shopping and sight seeing. Some of our favourites include...
Glacier 3000 Les Diablerets
From Crans Montana, it takes about 90 minutes to drive to the pretty village of Les Diablerets. From here, you can take the cable car up to the glacier where there are numerous walks including the very popular Scex Rouge to Quille du Diable which does not require a guide. The views take in the peaks of Vaud and Valais and the majestic Mont Blanc Massif.
Leukerbad Thermal Spas
The largest and arguably the best mountain spa resort in the Alps, Leukerbad has been attracting mountain enthusiasts for generations who come to relax and revitalise in the thermal waters that spring to the surface at an incredible 51 degrees C.
The Gemmi Pass, with incredible views of the Wildstrubel, is home to excellent hiking trails and via ferrata including the "Daubenhorn", one of the longest and most difficult in Europe.
St Leonard's Lake
This 300m long subterranean lake of St-Leonard sits between Sion and Sierre and is the largest natural underground lake in Europe. Its a great trip for all the family and you can take a 30 minute boat ride exploring the caverns.
St Leonards is open to the public in June to September from 9am to 5.30 daily.
Our view on Crans Montana summer holidays
If you are looking for some outdoor adventure then summer holidays in Crans Montana offer something for all the family, and being based so close to Geneva and the other resorts in Vaud and Valais such as Grimentz and the spa resort of Leukerbad, it is a great spot for exploring this beautiful part of Switzerland.