Leukerbad resort guide & reviews
Ski area, apres-ski, things to see & do in Leukerbad
Resort review
Ski holidays in Leukerbad - in the heart of the Valais mountains sitting at 1411m is the pretty resort of Leukerbad - the largest thermal and wellness resort in the Alps with over 30 spas attracting an international clientele 365 days a year.
Not that well known outside of Switzerland for its skiing but as the combination of skiing and spa treatments gets more attention, Leukerbad is starting to a reputation as a top ski resort.
Spa & wellbeing
An incredible 3.9 million litres of thermal spring water rises to the surface daily at up to 51 degrees Celcius and is used by 30 different pools for people to enjoy after a day on the slopes.
Many of the spas are open to the public and for families, there are childrens pools, water slides and play areas.
Après-ski
Après-ski in Leukerbad is fairly relaxed and quieter when compared to some of the other resorts in the Valais area such as Verbier. However, don't be fooled in to thinking the place is a graveyard - far from it.
There are some great bars and lively pubs plus several top quality restaurants with a lot of the evening entertainment held in the premier hotels.
Key information (whole area)
Altitude
1411m
Top lift
2740m
Family
Beginner
Intermediate
Expert
Piste (km)
52
Longest run
14 km
Off piste
Cross country
47 km
Season
Dec - April
Snowboard parks
1
Heli Skiing

✘

Summer skiing

✘

Glacier skiing

✘

Babysitting

✔

Creche

✔

Apres ski
Relaxed
Leukerbad ski area guide
The main skiing area is at Torrent where you will find 52km of slopes and the snowpark. The area is ideal for intermediate and advanced skiers although with only 52km of pistes, there is not really enough terrain to keep you entertaied without visiting the exceptional back country trails.
The other area is called Gemmi which is accessed by a cable car from the town and whisks you up to 2350m. At the top there are 17km of cross-country trails and winter hiking routes. Whilst there are no marked pistes, Gemmi is the starting point for many high altitude ski tours.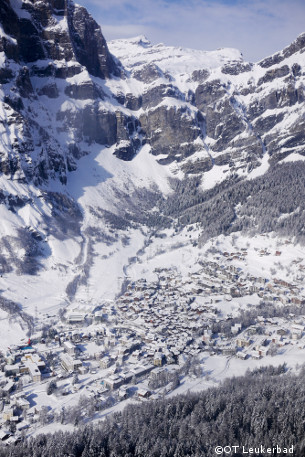 Beginners
If Leukerbad is your first ski holiday, the beginners area on Torrent at the top of the main cable car provides gentle slopes to learn the basics before trying the wide open blue trails that provide some high mountain experience.
The top blue runs starts at 2610m giving fantastic views of the Rhone Valley below and decends gently back down to the beginners area.
Intermediate
For intermediates, there are 24km of red runs to explore all on the Torrent side of the resort.
Advanced
If you are a good skier or boarder, the terrain in Leukerbad will provide the challenges with over 22km of the pistes being black. However, this accounts for only 7 pistes so for a weeks ski holiday, you will need to venture off-piste.
If you enjoy touring, there are some exceptional trails starting from the top of Gemmi but these are only to be tried with a guide.
Cross-country
There are two areas for cross-country skiing - one at Torrent where there are some 3okm to explore and the other at the top of Gemmi where there are another 17km.
Snowboard
For snowboarders, there is a funpark at the top of Torrent with all the usual jumps, rails and kickers. The park caters for all levels from beginner to expert.
Things to see & do in Leukerbad
Spend a relaxing day at the Burgerbad thermal spa with it's 10 pools and childrens slides and play area
Snowkiting
Ice skating
Winter walking and snowshoeing trails on Gemmi
Tobogganing
Parapenting
Unique to Leukerbad is the experience of going to an open area cinema sat in a thermal pool! Its true - for 6 days in winter and autumn, you can watch the latest movies and classics on a 8x4m screen whilst sat relaxing in the pool.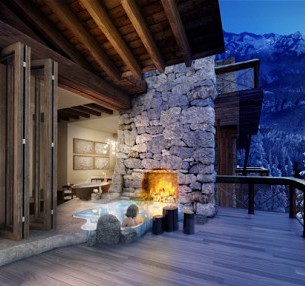 Featured ski chalets
Leukerbad is an extremely pretty alpine resort and has some very high spec new chalet residences complete with spa facilities. In total, there are over 1700 chalets and apartments, many of which are rented out throughout the year. As a quite compact resort, all of the accommodation is within walking distance to the resort centre, lifts and pistes.
See all rentals
Our view on ski holidays in Leukerbad
We think Leukerbad is an ideal ski resort for family ski holidays combining winter sports with relaxation and wellbeing in the thermal spas. A few suggestions...
If you are a competent skier and like touring, you can hire a guide and explore the high alpine trails starting at the top of Gemmi
Leukerbad is close to many other ski resorts in Valais so for something different, you could try skiing in nearby crans Montana
If you like combining skiing with wellbeing and relaxation, Leukerbad certainly ticks all the boxes. A superb spa resort and one to visit any time of year.