A Guide To Skiig On Mauna Kea
Skiing & Snowboarding on Big Island Hawaii Volcano
The skiing and snowboarding in Hawaii takes place on Mauna Kea (Hawaiian for 'white mountain') - an extinct volcanic mountain rising up to 4205m and is the world's highest mountain if measured from the seabed. Typically in February and March, the summit gets a good dump of snow prompting expert skiers and boarders to grab their gear, drive to the top via the access road to the observatories and get an adrenaline rush you'll never experience in a traditional ski resort!
For starters, there are no lifts, no ski schools or patrols and no pistes! What you do get is the thrill of high altitude skiing on a volcano with panoramic views of the Hawaiian Islands and the Pacific Ocean.
Skiing on Mauna Kea is reserved for experts or certainly very good intermediates so you won't find any organised ski trips being promoted here. At the top, the air is thin and altitude sickness can kick in plus there is the issue of the variable weather conditions.
One minute it can be bright sunshine and all of a sudden, the wind picks up bringing in the high clouds at a rate of knotts. The winter temperatures generally range between -4°C and +4°C but the wind chill can make it feel considerably colder.
One thing to remember if you are also a scuba diver is not to ski Mauna Kea in the morning and scuba dive in the afternoon - a day between the two is recommended just as if you were flying.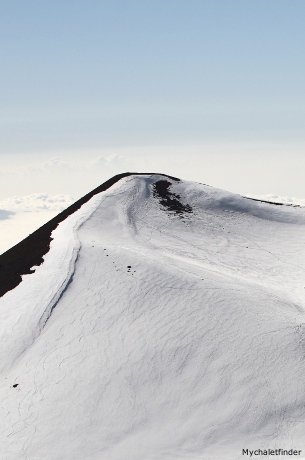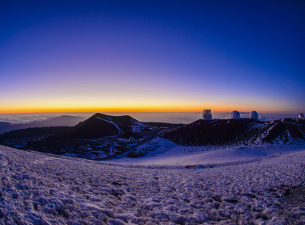 Ski Area
The potential skiable terrain is vast at around 100 square miles and nearly 2000m of vertical so when the summit is blessed with good snow cover, the skiing can be extensive. With having to drive up to the top after the end of each descent, a full day on the mountain really means you should be able to do 2 to 3 runs.
The main itinearies and ski areas are...
Poi bowl
Prince Kuhio trail
Menehune trail
Kamehameha run
Pele's Parlor trail
Our view on skiing in Hawaii
Given the strong Hawaiian sun, when the snow does fall, the ski conditions are typically spring like with the best skiing in the morning before the slush starts to form. So after a good dump and the sun is shining, skiing on Mauna Kea can be the experience of a lifetime.