How to get to Silvaplana-Surlej
Airport distances
| Airport | Distance |
| --- | --- |
| Bergamo | 150 km |
| Milan Linate | 164 km |
| Millan Malpensa | 202 km |
| Zurich | 204 km |
By plane
Ski holidays in Silvaplanaz - part of the excitement is getting there! Depending on where you are travelling from, Silvaplana is not the easiest place to get to unless you have a private plane in which case you can fly in to St Moritz and take a taxi! Airport transfers from Zurich to St Moritz or from Milan can mean a 3-4 hour transfer time ahead of you.
By car
Transfers from Zurich means driving to Chur (1 hour) and then over the Julier Pass and from Milan - the Maloja pass. Both have spectacular scenery and if you like an adrenaline rush, the hairpin bends will do the trick. In winter, if its raining on the approach roads to the passes, it will almost certainly be snowing when you climb to the top so snow-chains are a must.
By train
There is a train station in St Moritz so if you are arriving in to Zurich airport, you can get a train straight from the mainline station which takes around 3 hours.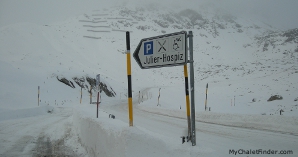 Julier Pass
View Larger Map