Graubünden ski holidays
Skiing & snowboarding around the ski resorts of Graubünden
Overview
Ski holidays in Graubünden - this is Switzerland's largest canton sitting in the east of the country. It boasts an impressive 1,000 mountain peaks including Piz Bernia standing at 4049m, 150 valleys, 615 lakes and countless glaciers. The diversity of the region stems from the fact that it borders Italy and Austria giving rise to it's three local languages of German, Italian and Romansh plus a unique gastronomy that attracts food lovers from around the world.
As a year-round destination, Graubünden offers outdoor adventures in the summer and snow sports during the winter months. With towering peaks, snow and ice, this Swiss canton is the ideal place to relax, have fun and enjoy the mix of cultures and traditions of Switzerland, Italy and Austria.
| Valais Ski Facts | |
| --- | --- |
| No. of Resorts | 59 |
| Altitude (m) | 1,200 to 3,303 |
| Snowfall (cms) | 600-800 |
| Sunshine | 300+ days |
| Highest mountain | Piz Bernina 4,049m |
| Ski season | Nov - May* |
| Summer skiing | ✔ |
| Closest airport | Zurich |
Featured ski chalets
The valley towns and mountain ski resorts around Graubünden are a mix of the old and the new blending rustic chocolate-box chalets in the alpine pastures with new ski-in, ski-out residences and apartments in the mountain resorts. Wherever you choose to stay in Graubünden, the scenery is spectacular and you are never far from the ski lifts and local apres-ski bars and restaurants. The other major benefit of renting a holiday home is that they provide the freedom, flexibility and space to do what you want, when you want - ideal for familes, groups and friends.
See all rentals
Featured Graubünden ski resorts
Offering a warm and very friendly stay, the Graubünden ski resorts provide nothing less than the highest quality in service and fantastic accommodation for you to enjoy on your ski holiday. Graubünden is also laced with hidden gems where many ski resorts are not even on the radar, even in Switzerland! The hidden valleys in Engadine and Prättigau are home to some spectacular traditional alpine villages where time has stood still yet provide some fantastic skiing opportunities on virtually deserted pistes.
Things to see & do in Graubünden
Graubünden offers so much variety in terms of what do see and do for all ages. From day trips to one of the nearby lakes to visting one of the off the beaten track alpine villages such as Tschli, Soglio or Splügen or it's capital Chur. From cultural events to places of natural beauty, Graubunden is a treasure chest of surprises and waiting to be explored. With 1000 peaks, 615 lakes, 150 valleys and 3 language regions, the choice is as wide as gets. However there are a few things that you shouldn't miss during your stay such as...
Rhine Canyon Ruinaulta
Also known as the Swiss Grand Canyon due to its size, the Ruinaulta gorge is spectacular with sheer ciffs and limestone rock formations stretching up from the canyon floor. Hiking along the canyon floor next to the river is a must for any alpine enthusiast.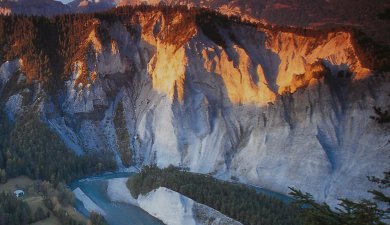 Corvatsch Glacier, Engadine Valley
Corvatsch has the highest ski station in Graubünden at 3303m giving amazing panormanic views of the surrounding peaks and glaciers. The Corvatsch Glacier is popuolar during the winter for skiing and summer for guided glacier walks. There are over 80kms of hiking trails in the area and also popular for mountain biking.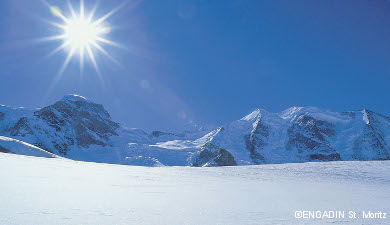 Our view on Graubünden ski resorts
Graubünden is a year round destination with warm summer months for hiking, mountain biking and watersports whilst the winter is a mecca for snow sports. With 59 ski resorts dotted around the largest canton of Switzerland and with the added spice of being on the Italian and Austrian borders, choosing a Graubünden ski holiday is definitely worth considering.
List your Ski Chalet
Ski holiday rentals are getting more popular with travellers from families to adventurers.
List your chalet on MyChaletFinder today!
List your property
View properties in