Gstaad ski resort guide & reviews
Ski area, apres-ski, things to see & do in Gstaad
Resort Reviews
Ski holidays in Gstaad - this famous alpine resort has been entertaining the rich and famous for generations. It is classy, chic and sophisticated yet welcomes all visitors to experience the array of on and off piste delights this beautiful mountain region has to offer.
Gstaad is on the French - German language border between the Bernese Oberland and Canton Vaud and is easily accessible no matter which side of the border you are coming from. The resort itself is a collection of 9 small villages - the largest and hub being Gstaad.
Spa & Wellbeing
Gstaad is famous for its spa & wellness centres and has six specialist 5* hotels waiting to pamper you with state of the art facilities, each one offering signature treatments. Many of the other hotels also offer spa facilities that are open to non residents so you will be spoilt for choice.
Après-ski
Après-ski starts at one of the 30 mountain restaurants or snow bars late afternoon before progressing to one of the 100 eateries ranging from cosy pubs to exquisite gourmet restaurants.
Key information (whole area)
Altitude
1050m
Top lift
3000m
Family
Beginner
Intermediate
Expert
Piste (km)
220
Longest run
10km
Off piste
Cross country
170km
Season
Dec - April
Snowboard parks
4
Heli Skiing

✔

Summer skiing

✘

Glacier skiing

✔

Babysitting

✔

Creche

✔

Apres ski
Lively & Traditional
Gstaad ski area guide
There are 5 main ski areas covered by a single lift pass which together, provide over 220km of piste to explore...
Gstaad
Les Diablerets with direct access to Glacier 3000
Chateau D'Oeux, and
Leysin
Ski touring
Gstaad is fortunate to be so well connected to several fantastic ski resorts within the Glacier-Alpes Vaudoises ski area providing some fantastic touring opportunities.
For more adventure, we highly recommend taking one of the heli-skiing tours to get the best out of this stunning alpine region.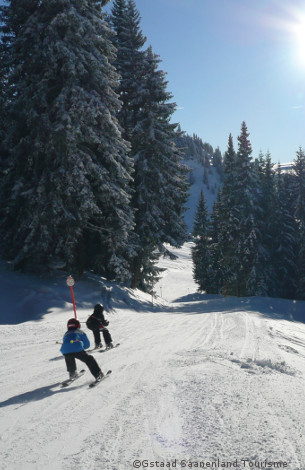 Beginners
There are many beginner areas around the Gstaad region providing gentle slopes to learn the basics before progressing to the long sweeping blues through the forests. One of the best spots is at Lauenen, a short bus ride from town, that has south facing slopes.
Intermediate
One of the best intermediate runs is the La Videmanette - Rougemont that starts on Mt. La Videmanette and stretches down the mountain for 10km. This is a "feel good" trail with several superb snow bars and restaurants on route.
Advanced
For more experienced skiers and boarders, Gstaad has the Tiger Run on the Wasserngrat and several off-piste itineraries flowing from the top of Glacier 3000.
On the glacier, its the 8.6km Combe d'Audon piste that flows down from the top of the Oldenhorn peak that you should head to for some challenging terrain.
This black run is steep narrow and drops through a vertical of 1137m to the Mountain Restaurant Oldegg at 1919m for a well desrved pit-stop. If there is enough snow cover, you can ski a further 3km down to Reusch at 1350m and then on to Les Diablerets.
Other ski holiday activities
Gstaad sports centre with 3 indoor pools, spa & wellness facilities
Ice skating
Curling at the sports centre
Airbag
200km of winter walking trails
110km snowshoeing routes
Dog sleighs
Parapenting
Heli-skiing
Snowboard
There are 5 fully equipped terrain parks to try out for snowboarders that cater for absolute beginners to experts. They are situated in the Gstaad area, Saanenmöser Skicross slope, Hornberg, La Braye and Glacier 3000.
Toboganning
Lots of fun for all the family on the various toboggan runs in the region. One of the longest tracks is the 5km run at Eggli – Grund in Gstaad.
Featured ski chalets
The holiday region of Gstaad is made up of 9 villages with some of the houses dating back to the 14th century. The villages of Zweisimmen (950m), Schönried (1230m) and Lauenen (1252m) are particularly popular with families being a little more relaxed than Gstaad.
See all rentals
Our view on ski holidays in Gstaad
One of Switzerland's best, Gstaad offers everything for everyone. Famed as a socal playground for the affluent, the on piste action is equally impressive as are it's spa hotels and casino.
Not a place to take full advantage of everything on offer if you are travelling on a tight budget. A few suggestions for your ski holidays...
For touring, a trip over to Glacier 3000 and down in to Les Diablerets is a full day adventure - just make sure you need enough time to get back!
Experience the thrills of the 5km toboggan ride in Gstaad
A night out at the Palace Hotel with casino and nightclub
Take the Panorama Express from Gstaad to Montreux and visit the castle on Lake Geneva