Schladming ski schools
Childrens ski lessons, off-piste & ski touring guiding in Schladming
There are several Schladming ski schools and ski touring guide companies in Schladming each offering a comprehensive ranges of snowboarding and ski lessons for all ages and abilities. The ski schools tend to meet at either Planai ski area next to the Weitmooshutte at the top of the cable car, or Rohrmoos which is where beginner childrens ski lessons usually take place.
For good intermediates and experts, the guided off-piste trails are are not to be missed as the Dachstein Valley is very popular for ski touring.

At a glance
Childrens ski lessons
Private ski lessons
Group lessons
Snowboarding
Guided ski touring
Ski safari
Snowshoeing
Torch relay
In detail
Welcome to Skischule Reiteralm - our professional team of highly qualified instructors are dedicated to teaching and improving every level of skier and boarder from beginner to experts.
Our philosophy is to let you experience the enthusiasm for winter sports fun. That means nothing less than offering you honest quality with personal attention.
All our ski lessons can be private and tailored to your specific requirements or in groups.
Off piste ski guiding & touring
To experience the full extent of what Schladming has to offer, why not try some ski touring. Expert local guides will navigate you around the high mountain trails in safety taking you on an adventure around the Dachstein Valley and beyond in to the depths of the Ski Amade carousel. There are 16 classic ski tours in the area starting from the top of the Dachstein gondola. A couple of popular ski tours are....
Dachstein Glacier to Hallstatt Lake ski tour
Strictly speaking, this is not a "ski tour" in the strictest sense as no skins are required and quite a bit of the terrain is on-piste. However, for a great day out in pristine natural beauty, the 25km ski tour giving 2200m of vertical is excellent and is suitable for intermediate skiers.
Edelgriess ski tour
Starting at the top of the Dachstein Gondola again, this 18km ski tour makes its way across the Dachstein massif and ending up in the pretty village of Ramsau am Dachstein. Its a fairly tough tour in terms of technical ability and the physical demands of 3 hour ascents using skins. The Edelgriess is a fantastic full day ski tour and needs to be done with a local guide.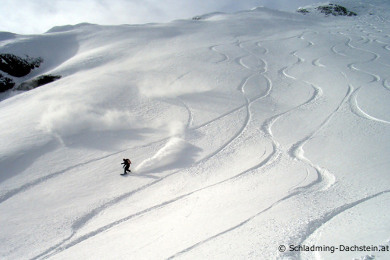 Guided summer activities
Whilst there is no summer skiing in Schladming, you can ski to early June and from the end of October on the Dachstein glacier. The glacier has some of the most expansive summer cross-country terrain in the Alps and skiing lessons for beginners to experts are available.
White water rafting
Guided glacier and alpine lake tours
Via ferrata
Mountain climbing