Trysil ski resort guide & reviews
Ski area, apres-ski, things to see & do in Trysil
Resort Review
Trysil ski resort is a mid sized town and offers the largest skiing area in Norway! With 65 snow sure runs, Trysil is the perfect destination for fantastic skiing, snowboarding and cross country skiing from the end of October right through to the start of May!
Après-ski
Off the pistes, Trysil can be as relaxed or as lively as you want it.There is a great selection of bars and restaurants and several clubs to dance away the night.
Children
Liftpasses for children under the age of 7 are free and there are two ski schools specially for children, three dedicated skiing areas, their own après ski and a crèche.
Key information (whole area)
Altitude
415m
Top lift
1132m
Family
Beginner
Intermediate
Expert
Longest run
5km

Off Piste

Cross country
100km

Season

Dec - April
Snowboard parks
1

Heli Skiing

✘

Summer Skiing

✘

Glacier skiing

✘

Babysitting

✘

Creche

✔

Apres ski
Lively
Trysil ski area guide
Whilst you can ski throughout the season, the best time is from mid February onwards when there is considerably more daylight than in December and January. Whilst the highest skiable point is only 1100m with a maximum vertical drop of 685m, you might be thinking that snow cover could be a problem. However, being so far North, snow is virtually guaranteed right to resort level and thats why Tyrsil offers a Snow Guarantee. There are 4 main ski areas around Trysil each one having its own speciality...
Trysil Turistsenter
Turistsenter is the main gateway on the south side of the mountain. Here you will find slopes for all levels of skier and a dedicated childrens area. There are plenty of good restaurants and bars to be found close by.
Trysil Høyfjellssente
On the north side of the mountain lies the area of Trysil Høyfjellssenter which is ideal for families. There is a wide range of pistes from green to black and dotted around them are various restaurants.
Høgegga
Høgegga is more for the advanced skier and adrenaline junkies with high speed black pistes. Early morning skiing is also available here a few days a week.
Skihytta
This area is high up on the mountain and is usually at its best when there are blue skies as the views are magnificent. Skihytt is a favourite spot for the local ski bums and the mountain restaurant (Skihytta) is a good place to hang out serving fantastic local food.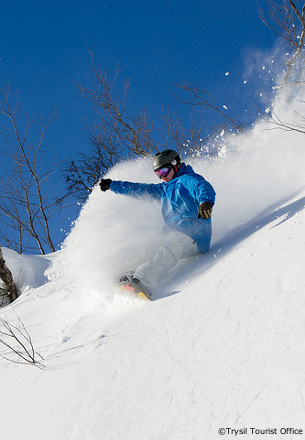 Beginners
There are 20 beginner slopes across the mountain that cater for beginners before they move up on to the blue runs.
Intermediate
Intermediate skiers will find more than enough terrain to keep them entertained with 34 pistes graded blue or red.
Advanced
The main area for those looking for a challenge is at Høgegga. Here, you will find most of the resorts 11 black pistes but the secret is the off-piste terrain where the powder tends to last.
Things to see & do in Trysil
If you don't ski or fancy something different, there are plenty of other activities to try...
Dog sleighing
Snowmobile safari
Horse sleigh riding
Night skiing
Mountain top touring
Tobogganing
Snowboarding & Cross-Country
If you believe the 20 green, 17 blue, 17 red and 11 black slopes are not challenging enough for you, try out Trysil's Fun-area "Parken" with perfect jumps, rails and boxes for beginners and advanced.
Or experience the beautiful nature around Trysil and enjoy the 100km of cross country trails!
Featured ski chalets & cabins
There is a good and wide selection of holiday rental accomodation in Trysil including luxury cabins / chalet rentals and apartments to rent for long weekends or the season. One thing you will notice is that all the shops, bars and restaurants are within walking distance and most of the accommodation in Trysil offers door-step skiing.
See all rentals
Our view on Trysil ski resort
Trysil is a beautiful ski resort and one that you wont forget for a number of reasons, the scenery, levely apres-ski and the bar prices - if you are on a budget, Norway's sky high prices could bankrupt you fairly quickly!! However, the cost of accommodation is relatively much cheaper so that a ski holiday in Norway will work out roughly the same as the Alps.
Some tips....
Hire a car - if you are staying on the Fagerasen side of the mountain and want to check out the other areas, you will need to take the ski bus - whilst free, it is not that frequent
Given the high alcohol prices, its a good idea to visit the Vinmonopolet (government alcohol outlet) in Storveien on the main road through Trysil town - considerably cheaper than restaurant prices
If you like Trysil, you may also want to look at Hemsedal and Ruka in Finland.