St Gervais guide & reviews
Ski area, apres-Ski, things to see & do in Saint Gervais
Resort Reviews
Ski holidays in St Gervais les Bains, to give the town its proper name - a traditional town and ski resort in France's Haute Savoie area, boasting charm and heaps of character.
What sets St Gervais apart from other ski resorts is that it's steeped in history and has been offering skiing since 1936. As you arrive in the centre of town you'll love the 'Belle Epoque' architecture and the little town square lined with brasseries, shops and bars. The resort also has excellent leisure facilities.
But its not until you head up on to the slopes that you will understand why the resort's slogan is pure mountain. As soon as you get off the ski lift and turn around, you'll be face to face with Mont Blanc. The panoramic views of this iconic mountain are simply amazing from St Gervais.
Children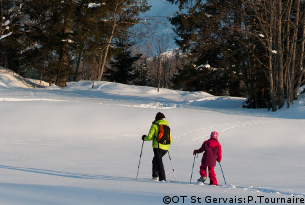 Key information (whole area)
Altitude
810m
Top lift
2350m
Family
Beginner
Intermediate
Expert
Piste (km)
445
Longest run
4km
Off piste
Cross country
km
Season
Dec - April
Snowboard parks
2
Heli Skiing

✘

Summer skiing

✘

Glacier skiing

✘

Babysitting

✘

Creche

✔

Apres ski
Relaxed & Informal
Younger children and tots are well looked after too, with special mentions for the crèche at Bettex, which is the mid-station, mid-mountain hamlet just above St Gervais town which is a bit of a focal point for the ski resort, with ski hire shops, restaurants, the kids' clubs and several non-ski activities based there.
Any young freestyle grommits will love the WOSP (that's watch out or wipeout) snow park that's in the Mont Joux area. Children in ski school will be smiling, as the St Gervais ski schools have an excellent reputation, with many instructors speaking English.
St Gervais Ski Area Guide
Ski holidays in St Gervais les Bains are excellent for families of mixed abilities, as well as beginner to intermediate skiers and snowboarders. St Gervais is part of the Evasion Mont Blanc chain of resorts that offers 220 pistes covering 445km with 112 lifts. You can choose to buy different lift passes that cover smaller areas such as St.Gervais - Megeve or the Evasion Mont Blanc pass if you like touring.
The other resorts that make up the Evasion Mont Blanc area include...
Saint Nicolas de Veroce
Combloux
La Giettaz
If you can stop gawping at the stunning views of the Mont Blanc chain long enough to get some skiing in, you'll find that there are loads of tree runs, wide open pistes and the odd challenging steep. With 445kms in the offing and heights ranging from 850 to 2350m, even the most accomplished skier will be hard pushed to cover every inch of the area on a weeks ski holiday in St Gervais.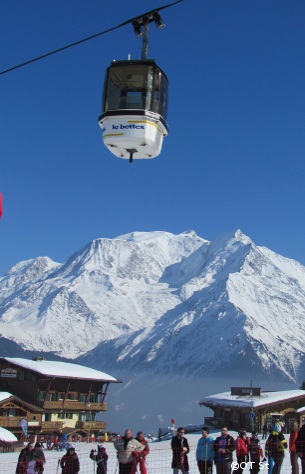 Beginners
St Gervais is a great ski resort if you are starting out for the first time. Lots of wide greens and blues on both sides of the village will get you touring around in no time.
Intermediate
Intermediate skiing is what St Gervais is all about and we can heartily recommend the pistes around the Mont Joly area, including L'Epaule (the shoulder) which is literally a piste that runs along the ridge of Mont Joly with (as ever) those spectacular views to distract you whilst trying to smoothly link those turns!
It's also really easy to move around the areas included in the basic St Gervais Mont Blanc lift pass, so you can start the morning in St Gervais at Bettex and head over towards the shady Cote 2000 on the Megeve side for best quality snow in the afternoon without having to catch a bus or get in the car.
Advanced
St Gervais is not known as a mecca for the expert skier and does not have a reputation for serious off piste, but search a little bit and you will find that secret stash of powder over on the Mont Joly side and down towards Saint Nicolas as well.
Things to see & do
Non-piste skiing activities include ski joering (being pulled on skis by a horse) from Les Communailles towards Saint Nicolas plus a beautiful old-style merry-go-round in the centre of town that's open winter and summer - a perfect apres-ski fun activity for the kids.
Ice skating
Snowshoeing
Hand-gliding
Parapenting
Après-ski
Apres-ski in St Gervais is on the relaxed side. When night falls, St Gervais is about soaking up the atmosphere in the cosy cafes and restaurants. For trendy bars and nightclubs, Megeve has lots and is a short taxi drive.
MyChaletFinder view
A lovely spa town with great cafes and restaurants and access to a vast ski area - the Evasion Mont Blanc.
If you like St Gervais, then also worth looking at are the resorts of Les Houches in the Chamonix valley and Flachau in Austria which is part of the vast Ski Amade system covering 25 resorts.