Villars summer chalet holidays
Things to see & do in Villars
A summer holiday in Villars-Gryon can be as relaxing or action packed as you want it to be whether its walking along over 300 km of mountains trails, mountain biking or having a family picnic at one of the 3 high mountain lakes.
In 2006, Villars launched the Free Access card which is given to all guests who spend a night in the resort from June to October. This card allows free and unlimited access to over 20 lifts and includes free entrance to sports clubs and other leisure activities. The card is valid in Gryon and Les Diablerets.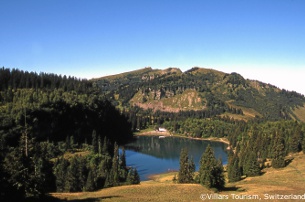 | At a glance | |
| --- | --- |
| Spa & wellness | ✔ |
| Hiking trails | ✔ |
| Glacier trekking | ✔ |
| 18-hole golf course at 1600m | ✔ |
| Children's mini golf | ✔ |
| Paragliding | ✔ |
| Cannyoning | ✔ |
| Rafting | ✔ |
| Mountain biking | ✔ |
| In and outdoor swimming pools & slides | ✔ |
| Tennis | ✔ |
| Mountain luge | ✔ |
| Tree walking & zip-lines | ✔ |
Each resort in the Alpes Vaudoises near Villars, including Leysin and Les Diablerets, has lifts open during the summer season so you can access hikes and walks, or take your mountain bike up and have a go at the downhill trails (not for the fainthearted!).
Mountain biking
Mountain biking in Villars is extremely popular and there are plenty of lifts operating during the summer to take you and your bike up the mountain. The trails down suit all levels from beginners to experts.
There are also lots of beautiful scenic tracks around Villars for cross country mountain biking where you don't need a lift pass.
Hiking
If you are interested in hiking then Villars is the perfect destination for you. There are great hiking trails for all ages and levels. You can choose hikes starting from the heart of the village that take you up the mountain or along the valley.
The Swiss Ski School of Villars offers trekking guides who can navigate you around the alpine trails. This is a great way to explore the pristine natural beauty of the mountains off the beaten tracks.
Featured Chalets
We have a wide choice of self catering summer rentals in the centre of Villars and around nearby Gryon for all budgets and tastes. Given that prices are considerably lower than in the peak winter season, holiday rentals in Villars during the summer are excellent value for money.
See all rentals
Day Trips
In summer Villars will be just what you want it to be with so many different outdoor activities and interesting places to visit in the area. From Villars, there are many possibilities for doing day trips to neighbouring resorts - perhaps for a spot of lunch, shopping and sight seeing. Some of our favourites include...
Glacier 3000 Les Diablerets
From Villars, it takes about 10 minutes drive along the high mountain roads to reach the pretty village of Les Diablerets. From here, you can take the cable car up to the glacier where there are numerous walks including the very popular Scex Rouge to Quille du Diable which does not require a guide. The views take in the peaks of Vaud and Valais and the majestic Mont Blanc Massif.
Leukerbad thermal spas
The largest and arguably the best mountain spa resort in the Alps, Leukerbad has been attracting mountain enthusiasts for generations who come to relax and revitalise in the thermal waters that spring to the surface at an incredible 51 degrees C.
The Gemmi Pass, with incredible views of the Wildstrubel, is home to excellent hiking trails and via ferrata including the "Daubenhorn", one of the longest and most difficult in Europe.
St Leonard's lake
This 300m long subterranean lake of St-Leonard sits between Sion and Sierre and is the largest natural underground lake in Europe. Its a great trip for all the family and you can take a 30 minute boat ride exploring the caverns.
St Leonards is open to the public in June to September from 9am to 5.30 daily.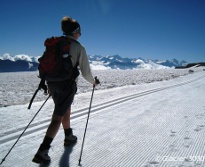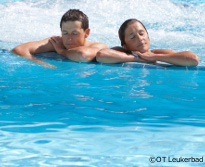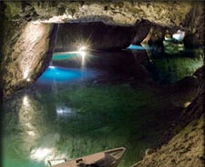 Our view on Villars summer holidays
If you are looking for some outdoor adventure then summer holidays in Villars offer something for all the family, and being based so close to Geneva and the other resorts in Vaud and Valais such as Grimentz and the spa resort of Leukerbad, it is a great spot for exploring this beautiful part of Switzerland.