Flims ski schools
Childrens ski lessons, ski touring & mountain guides in Flims
Laax ski schools offer a comprehensive ranges of ski and snowboarding lessons for all ages and abilities for both skiing and snow boarding. Laax and the White Arena ski carousel which includes the Flims ski area, has terrain for all levels although predominantly for beginners and intermediates which is ideal for learning to ski and snowboard and to improve your technique.
At a glance
Kindergarten - under 4 years old
Children ski lessons 4+ years
Day nursery
Private lessons
Group ski lessons
Snowboarding
Ski & snowboard tours
Freestyle accademy
Race accademy
Multi lingual instructors
In detail
Welcome to to the Flims - Laax ski school. Take the first turns on the mountain, glide with lots of momentum across Flims and Laax's broad pistes or discover the new work o f Freestyle - at the Flims Laax Falera ski school, everyone can achieve their goal.
All our ski lessons can be private and tailored to your specific requirements or in groups.
Our expert instructors & guides can teach or enhance your off-piste capabilities with backcountry ski tours around Laax and the White Arena.
Flims ski touring
To experience the full extent of what Flims and the White Arena have to offer, why not try some off-piste ski touring. Expert local guides will navigate you around the high mountain trails in safety taking you on an adventure around the area and beyond.
Vorab Glacier
This is a half day ski tour starting on the Vorab glacier. Taking the lift to the Bündner Vorab peak, its a 10-15 minute walk along a ridge giving amazing panoramic views of the Oberland Alps. Then, there is a short downhill section before using skins for 20 minutes to access the main descent. From here, its 1000m of vertical on south facing slopes all the way back to the Lavandinas ski lift and usually with very good snow conditions.
Piz Grisch - 1/2 day
After taking the lift towards the Piz Grisch, this Flims - Laax ski tour starts on the east face passing through a small couloir and the Vonn bowl - a trail that you will probably want to do again and again. Its then a 10-15 hike over Segnas Lake to get back to the piste where you can then ski all the way back in to Laax.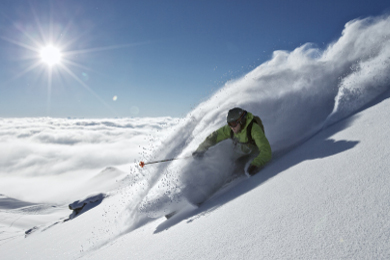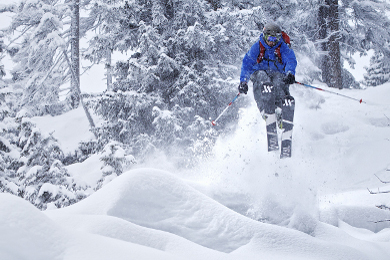 Guided summer activities
Whilst Flims does not offer summer skiing, there are plenty of other guided activities for all ages that can be organised and booked through the various ski schools and guide companies.
White water rafting
Guided glacier and alpine lake tours
Via ferrata
Mountain climbing
E-biking